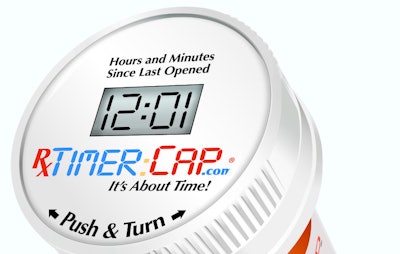 The health care industry is getting creative with ways to prevent and treat the opioid epidemic in America. A recent article from The News Courier reported on the latest concept that claims to improve patient adherence by more than 33%.
TimerCaps are patented lids that come in four different shapes based on how the original prescription was filled: Walgreens Style, Rite Ade Style, CVS Style or Mail Order Style. Each cap features a digital screen that displays the amount of time since the bottle was last opened. The company website notes six ways the caps prevent prescription drug abuse:
Automatically measures the time since last dose.
Knowing when it is safe to take the wheel again is based on time and ability.
Fits pharmacy vials to keep label info together with meds.
Tamper resistant & the timer resets to know it's been opened.
The evidence to know an exact time last opened, deters theft.
Avoiding misuse or theft of meds to keep friends and families safe.
TimerCap also offers an "iCap" that is Bluetooth enabled to communicate with a smartphone alerting patients when it's time for their next dose. It also records which medications were taken when and retains a log.