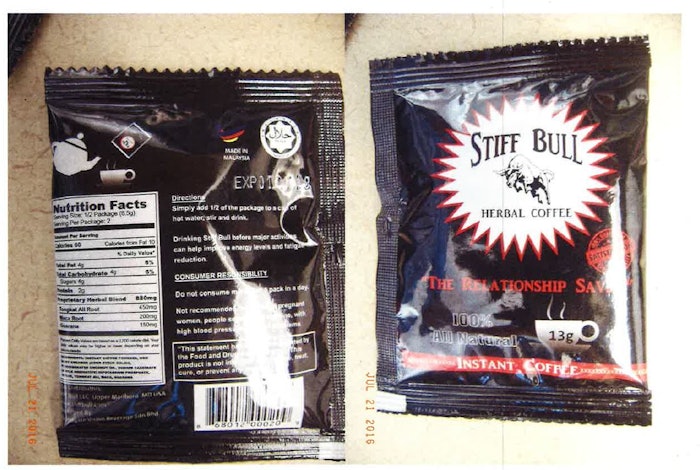 A natural herb coffee is giving consumers more than they bargained for. According to a recent article from Ars Technica, New of Kopi Jantan Tradisional Natural Herbs Coffee is being recalled after FDA laboratory analysis confirmed the presence of desmethyl carbodenafil, which is structurally similar to the active ingredient in Viagra. The owner of Bestherbs Coffee, the company that distributes the product, believes that a common herbal ingredient was purposefully contaminated in an effort to cut costs.
This isn't the first time the FDA has cracked down on coffee products for similar reasons. In May, the FDA announced the voluntary recall of "Caverflo Natural Herbal Coffee" after an FDA lab found it contained sildenafil and tadalfil, both active ingredients in prescription pills used to treat erectile dysfunction. And in less-surprisinly, a product called "Stiff Bull Herbal Coffee" which boasts the tagline: "The relationship saver" was recalled last September becasue it contained Viagra-like desmethyl carodenafil.
While the FDA continues to slap the wrists of coffee companies with ingredients linked to erectile dysfunction treatment, no one is really sure how the drugs get in the coffee in the first place. Producers publicly speculate that the manufacturers of the herbs purposefully cut the ingredients to save on costs. It should also be noted that neither Bestherbs nor the FDA have received complaints about negative health effects from the coffee.