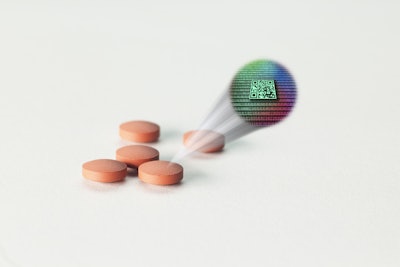 Based on its recent analysis of the product authentication market, Frost & Sullivan recognized TruTag Technologies, Inc. with the 2017 North American Frost & Sullivan Award for Technology Innovation.
TruTag's silicon dioxide particle-based microtags, known as TruTags®, enable customers to authenticate, identify, and track their products along the entire length of a supply chain by generating an optical signature. The microtags can be applied in a variety of industries including healthcare, food and beverage, consumer goods, and electronics to mitigate the risks of counterfeiting, product diversion, quality incidents, and product recalls.
Silicon dioxide is affirmed by the U.S. Food and Drug Administration as Generally Recognized as Safe (GRAS), making it fit for human consumption. The edibility and convertibility of TruTags enhance their value in the healthcare industry, as they can be used directly on pharmaceuticals.
Researchers are exploring the use of silicon dioxide particles in groundbreaking applications such as the controlled release of drugs. Porous silicon dioxide particles are considered ideal for in-vivo drug delivery because they are both biocompatible and biodegradable, and the particle porosity may be precision-made for storage and delivery of the drug.
They are gaining traction in the chemicals industry as well, as their ability to withstand temperatures of nearly 1,000 degrees Celsius allows them to be mixed into a coating or polymer/plastic.
TruTag etches silicon dioxide particles in batches to create combinations of nano-pores of customizable shape and depth for each customer and industry. The nano-pores reflect light at discrete, selected wavelengths that are authenticated by the company's portable readers; therefore, each microtag possesses an optical signature that is unique, identifiable, and extremely secure.
"The microtags' spectral codes provide information at the product level as well as the country, batch, and distributor levels," said Frost & Sullivan's Senior Research Analyst Aniruddha Roy. "With the help of the tags, customers can collect information like dosage, manufacturing site, authorized distribution channel, lot number, drug package insert, and related safety information."
TruTag's technology is scalable and can meet diverse customer requirements. The company's new manufacturing plant has high-volume, automated production capabilities that have increased capacity more than 50-fold in recent years. This production facility, which manufactures microtags for the pharmaceutical and food industries, is current good manufacturing practices (cGMP)-compliant and is reported to be the world's largest cGMP precision nano-porous silica production plant.
Each year, Frost & Sullivan presents this award to the company that has demonstrated uniqueness in developing and leveraging new technologies, which significantly impacts both the functionality and the customer value of the new products and applications. The award lauds the high R&D spend towards innovation, its relevance to the industry, and the positive impact on brand perception.
Companies in this article