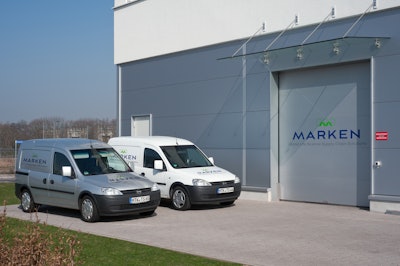 UPS and Marken were recognized by participants in Nice Insight's 2017 Clinical Supply Chain Logistics Survey as a top provider in temperature data collection and management services for clinical trial materials. Survey findings were released in March of 2017 in Pharma's Almanac, a quarterly supplement to the American Pharmaceutical Review.
Nice Insight, the research arm of That's Nice, A Science Agency, conducted its first market survey to gauge the pharmaceutical industry's perceptions of the most prominent global supply chain logistics providers. Nice Insight surveyed 320 key healthcare logistics decision-makers at large and midsize organizations in North America, Europe and Asia.
UPS/Marken consistently scored highest among study respondents across a range of technical, operational and service capabilities. Fielded and tabulated just after the announcement and closing of UPS's acquisition of Marken, respectively, the combined brands were among 22 top providers of supply chain logistics for the pharma-biotech industry rated.
"UPS and Marken are honored to be recognized by the industry for best-in-class service offerings for clinical trials," says Geoff Light, UPS President of Healthcare Logistics Strategy. "Improved health outcomes through sophisticated drugs and vaccines start with successful trials, and optimized logistics is an integral component of medical research and development."
Healthcare logistics is a strategic priority for UPS, and in 2016 it announced an expansion of clinical trial capabilities. Also, in December of 2016, UPS continued its investment in market expertise, with the acquisition of Marken. Marken works closely with its clinical trial clients and investigator sites to collect and ship drug products, clinical trial materials and biological samples.
Marken is well-known for its commitment to hitting milestones, on-time delivery, flexibility to handle change, regulatory expertise and good understanding of clients' needs. Marken's global network facilitates the growing demand for direct-to-patient services and reliable handling of cell and gene therapy materials.
"The explosive growth of cell and gene therapies is a good example of clinical research that requires a streamlined supply chain powered by a team experienced in logistics solutions for complex therapies," says Wes Wheeler, CEO of Marken. "Marken appreciates the trust that the pharmaceutical industry puts in our capabilities, and we will continue to grow and innovate with UPS's support to ensure that we remain, together, the global leaders for this industry."
Nice Insight created its Clinical Supply Chain Logistics Survey "to keep our finger on the pulse of market perceptions when it comes to clinical logistics and data management service providers," says Steve Kuehn, That's Nice LLC Executive Content Director, and an editor of Pharma's Almanac. "Shipping clinical trial supplies involves strict temperature controls, monitoring and a broad scope of other specialized solutions, and we want to gain insights into who organizations view as industry supply chain leaders."