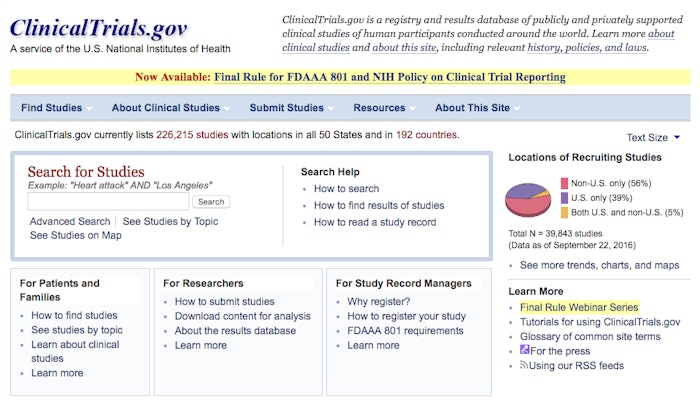 On September 23rd, the National Institutes of Health issued a press release regarding the HHS's recently issued final rule on ClinicalTrials.gov. The new rule extends the legal requirements for submitting registration and results for clinical trials of FDA-regulated drug, biological, and device products. Although the interface looks like an amateur website from the 1990s, the NIH is excited about improving the public's access to clinical trials.
"Access to more information about clinical trials is good for patients, the public and science," said NIH Director Francis S. Collins, M.D., Ph.D. "The final rule and NIH policy we have published today will help maximize the value of clinical trials, whether publicly or privately supported, and help us honor our commitments to trial participants, who do so much to help society advance knowledge and improve health."
Highlights from the final rule include:
Providing a checklist for evaluating which clinical trials are subject to the regulations and who is responsible for submitting required information;
Expanding the scope of trials for which summary results information must be submitted to include trialsinvolving FDA-regulated products that have not yet been approved, licensed, or cleared by the FDA;
Requiring additional registration and summary results information data elements to be submitted to ClinicalTrials.gov, including the race and ethnicity of trial participants, if collected, and the full protocol;
Requiring additional types of adverse event information; and
Providing a list of potential legal consequences for non-compliance.