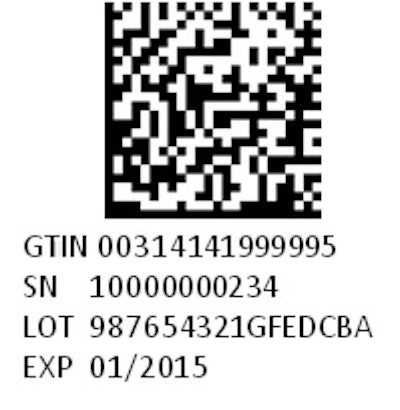 The GS1 Healthcare US Secure Supply Chain Task Force, consisting of more than 50 members from throughout the supply chain, developed a guideline to identify and serialize pharmaceutical products using GS1 identification numbers. Entitled, "Applying GS1 Standards to U.S. Pharmaceutical Supply Chain Business Processes to Support Serialization, Pedigree and Track & Trace" the guideline enables pharmaceutical companies to trace the movement of products through the U.S. pharmaceutical supply chain.
Available for download, the guideline focuses primarily on best practices and methodologies for product serialization and sharing pedigree and traceability data to support implementation for pending state regulations. Implementing GS1 Standards will contribute to increased supply chain security, visibility, and control, and help the industry prepare for pending government serialization, pedigree, and traceability requirements.
"This guideline will help organizations take an active role in the transformation of the healthcare system, meeting the goals of patient safety and regulatory compliance while making the supply chain more efficient," saya Siobhan O'Bara, senior vice president of industry engagement, GS1 US. "This new guideline should be the 'first stop' for all organizations that are preparing their pharmaceutical supply chain systems and business processes to meet pending improved supply chain security regulatory requirements."
The first phase of the California drug pedigree requirements will become mandatory in 2015, marking the beginning of product serialization and visibility in the healthcare supply chain. In addition, the U.S. Food and Drug Administration is developing track-and-trace initiatives. Members of the U.S. pharmaceutical industry have been preparing their systems and business processes to meet those requirements.
"The guideline will help companies leverage their existing technology investment and move forward with effective implementation strategies," says Michael Ventura, serialization and security manager (Americas), GlaxoSmithKline. "Working on this initiative has given me a much greater appreciation for the importance of non-proprietary, standards-based solutions and trading partner collaboration."
"To have true security in the supply chain, there needs to be consistency in terms of how the standards are implemented by individual trading partners to support collaborative supply chain solutions like pedigree and traceability," says Ron Bone, senior vice president, distribution support, McKesson Pharmaceutical. "The guideline takes the best of what we know, and puts that against real implementation activities. Many of the challenges a trading partner might face have already been dissected and resolved in the guideline."
Leading manufacturers, wholesalers, healthcare providers, government agencies, and industry associations analyzed business processes and post-2015 business requirements. They also evaluated results from industry pilots to provide a clear path to how the GS1 Standards should be applied. The GS1 Healthcare US Secure Supply Chain Task Force will now focus its efforts on developing formal test criteria that will ultimately serve as the basis for certification against the guideline.
The guideline covers:
• Product serialization
• Supply chain data exchange for pedigree and traceability
• Pilot learnings and best practices
GS1 Healthcare US®
GS1 Healthcare US is an industry group that focuses on driving the adoption and implementation of GS1 Standards in the healthcare industry in the U.S. to improve patient safety and supply chain efficiency. GS1 Healthcare US brings together members from all segments of the healthcare industry to address the supply chain issues that most impact healthcare in the U.S. Facilitated by GS1 US, GS1 Healthcare US is one of more than 30 local GS1 Healthcare user groups around the world that support the adoption and implementation of global standards developed by GS1. For more information, visit www.gs1us.org/healthcare.
GS1 US®
GS1 US, a member of GS1, is an information standards organization that brings industry communities together to solve supply-chain problems through the adoption and implementation of GS1 Standards. More than 200,000 businesses in 25 industries rely on GS1 US for trading-partner collaboration and for maximizing the cost effectiveness, speed, visibility, security, and sustainability of their business processes. They achieve these benefits through solutions based on GS1 global unique numbering and identification systems, barcodes, Electronic Product Code-based RFID, data synchronization, and electronic information exchange. GS1 US also manages the United Nations Standard Products and Services Code® (UNSPSC®).
Companies in this article