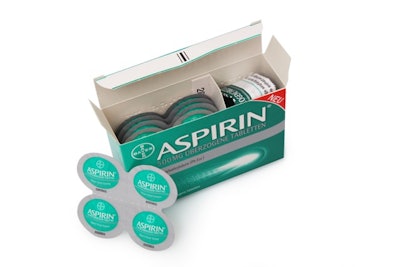 Good design, variously referred to as universal, inclusive, or accessible design, is all about giving a positive experience at point of use to as many people as possible whatever their age and ability.
It thinks about "real people" in real-life situations. Real life tests the limits of someone's patience and shows up a poorly conceived package design. If there is a fatal flaw, it needs to be rectified before the package goes to market. Otherwise, a brand will find itself losing customers to a competing brand with packaging that doesn't put up a fight or bite back.
Bayer's aspirin pack
It took a creative collaboration to produce a "totally new," user-friendly product concept for Bayer-branded aspirin in the form of an unusual, shamrock-shaped strip pack for four single tablets. Bayer Health Care's U.S.-based head of packaging and technology innovation, Guido Schmitz, led the shamrock project and says that machinery builder Romaco Pharmatechnik and its development of a "unique" intermittent die-cutting system made possible a higher flexibility in shaping.
Constantia Flexibles developed the material for the shamrock package, which is based on a paper/aluminum lamination with a hot tack Surlyn® layer from DuPont. The aim was to combine easy opening for consumers with the high water-barrier protection required of it by a new moisture-sensitive aspirin product formulation. While being easy for adults to tear open, the package has been tested and passed as childproof, states Schmitz. For portability, the package structure is perforated to divide into convenient units, which are separately branded as aspirin for identification purposes.
Structural design was the work of Berndt+Partner Packaging Creality with Sterling Brands responsible for global branding of the "new-generation" aspirin. The final packaging component, Edelmann Group's new carton design, also has the consumer in mind by providing a compartment for the product instruction leaflet so it is easier to access, adds Schmitz.
The winner of the European aluminium foil industry Alufoil Trophy 2015 Cross-Category Award appeared first in Germany's market, where it is seeing significant growth and has become a hit across Europe. A second Romaco Pharmatechnik high-speed packaging machine has been implemented, says Schmitz.
Switching from the previous polypropylene blister pack pays off for the consumer, who not only gets a "unique packaging solution" designed for their convenience, says Schmitz, but also the benefit of a product that performs better.
Schmitz specializes in over-the-counter (OTC) lines in Bayer's Consumer Care Division in the company, which after 35 years on the payroll gives him a long leash to exercise his creative and technical talents for storytelling.
"My designs are consumer-centric and developed with empathy. I use a holistic design approach to tell the story of the product, and make the product better by the packaging structure." Products must be made attractive for the older consumer, he says: "If they can't open a product, you need to ask why. In developing new concepts it's important to understand your target generation. I try to see five to 10 years ahead. Who will be your 45- to 60-year olds? Look what the impacts on them will be."
But any new design must be profitable for Bayer, and Schmitz emphasizes that if he and his team of partners come up with a radical new product concept that works especially well for the consumer—the aim of any "universal" design—then its benefits and advantages must spread across multiple product lines. In other words, scalability must be at the heart of a convincing business case for replacement packaging if it will incur additional costs for Bayer to implement. For instance, the specially developed Romaco strip-pack machine, now producing what Bayer claims is the first shaped pack for tablets, has the flexibility to run products currently in development, says Schmitz.
Design challenges in healthcare packaging
More than 172 million people worldwide suffer from rheumatism and arthritis, according to liquid carton packaging industry giant Tetra Pak. The Swedish company seeks endorsement from the Swedish Rheumatism Association (SRA) for products such as an easy to grip, one-step screw cap called HeliCap. By 2030 an estimated 67 million Americans of ages 18 years upwards are projected to have doctor-diagnosed arthritis, says the U.S. Centers for Disease Control and Prevention (CDC).
Smart Design Group's Russell Blanchard says a designer should look for "moments" where the experience can be improved and made "great" for the consumer. He acknowledges that in healthcare this is difficult because the need to include legal copy "kills" product design, and factors such as cost and supply chain requirements can result in a "bland customer experience."
But even in healthcare there are examples of good design. One that Blanchard points to, from Belgium-based pharmaceutical manufacturer UCB, is a syringe designed for self-medication of a drug called Cimzia that is used to treat Chrohn's disease, rheumatoid arthritis, and a few other ailments. But this syringe is nothing at all like the ones we're used to seeing in the hands of health professionals. It's ergonomically designed and has a loop on the needle shield to make it easy to remove the shield when it's time to self-administer the drug. Parts of the syringe are coated in thermoplastic rubber to be soft and easy to grip. And the larger-sized plunger rod can be pushed down hard without risk of breaking it. Compared to the widely available and standardized syringe, this one helps users—who have minimal hand strength, numb joints, and little dexterity—exert 48% more force. No wonder Cimzia was recognized by the Arthritis Foundation for its ease of use.
For health and safety, some products need child-safe caps and closures. On the subject of child-resistant closures, Menshen's Marketing Manager Christian Nöh at a packaging exhibition earlier this year in Zurich, Switzerland, gave brand owners this valuable piece of advice: "Keep in mind that caps must be easy to open by older users yet designed to deter children getting into products that pose a danger to them. But at all costs avoid people-resistant caps."
For guidance on the basics of good design, there's an International Standard known as ISO/CD 17480 (Packaging—Accessible Design—Ease of Opening). It includes a checklist of performance characteristics a package must have to be in compliance with the standard, including things like torque, opening pull forces, and colour contrast for optimal readability of labels.
What's clear is that producing a package with universal appeal, a package that's inclusively designed and accessible for real people and real-life situations, is a collaborative exercise. It also takes close observation and empathy to rid a design of fatal flaws. But the rewards are great for companies that invest resources in getting it right.
Joanne Hunter, an experienced packaging journalist based in the U.K., can be reached at jo.packagingfilms@gmail.com.
Editors note: This story is based on a broader article that appeared in sister publication Packaging World.
Companies in this article