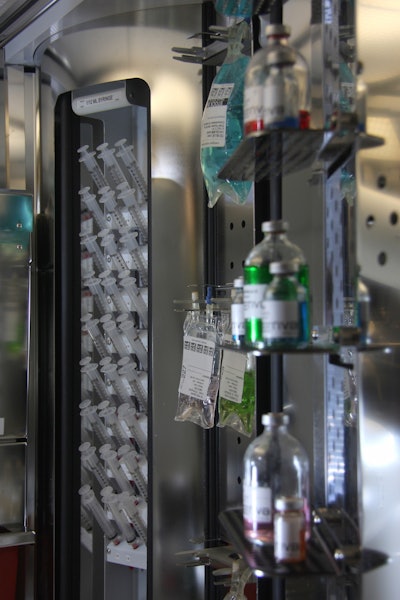 Recent news of a $200 million fund to compensate victims of the bankrupt New England Compounding Center (NECC) is an extreme example of how expensive manual compounding errors can be.
Contaminated compounds produced by NECC were linked to a 2012 meningitis outbreak that killed 64 people in 20 states and sickened more than 750.
But compounding errors don't have to result in multi-state disease outbreaks to be costly. In fact, a single compounding error can cost a hospital tens of thousands of dollars (or more) if it causes an adverse patient reaction. Research has found automated compounding technology can help reduce costs by eliminating errors. Automation also reduces the cost-per-dose of medication. A closer look at costs reveals some compelling facts.
A study by researchers at the University of Arizona published last year in Hospital Pharmacy Journal modeled potential errors in each step of a manual compounding process and associated patient medical outcomes. The report found automation could virtually eliminate compounding errors, potentially reducing hospital costs related to adverse drug events such as emergency intervention, extended hospitalizations, patient injury and additional treatment. In fact, across 1,000 simulated dose preparations, the authors concluded that eliminating errors through automated compounding could save hospitals more than $280,000 annually.
A 2012 study in the journal American Health & Drug Benefits found exorbitant costs from adverse drug events (ADEs) related to injectable medication errors, including compounding errors. Researchers found preventable ADEs due to injectable medications cost up to $5.1 billion annually in the U.S., an average of $600,000 per hospital. Further, medical professional liability for inpatient ADEs from injectable medication costs up to $610 million annually, averaging $72,000 per hospital. The authors concluded that "reducing the risk for injectable medication errors is a clear target" for reducing unnecessary costs.
Automated compounding systems save money in other ways, too. For example, many hospitals purchase common compounded sterile preparations (CSPs) from independent vendors, often in prefilled syringes. Certain systems allow hospital pharmacies to "in-source" production of CSPs, reducing costs. Our analysis shows that producing medications in-house not only lowers the cost-per-dose, but also reduces inventory costs.
Some might say automated compounding systems are expensive, but that's relative. CT scanners, MRI machines, and many other types of emerging healthcare technology can be considered expensive, but they are an investment in a higher standard of patient care. And, as those affected by the NECC tragedy might ask, how much is too much to spend to ensure the safety and sterility of medicines injected into our bodies? Fortunately, through enhanced safety and lower medication costs, even the most expensive automated compounding systems have paid for themselves in less than three years.
In summary, while the research examined above employs different methodologies and parameters, and was undertaken over a period of years, it all points to the same conclusion. By reducing errors, decreasing need to outsource and lowering the cost-per-dose of medication, automated compounding is ensuring patient safety and helping hospitals cut costs and save money.
Dr. Niels Erik Hansen is president and CEO of ARxIUM, a pharmacy solutions provider created by the merger of Intelligent Hospital Systems and AutoMed Technologies, with headquarters in Winnipeg and Buffalo Grove, IL. He holds a Ph.D. in control engineering and an M.S. in mechanical engineering from Technical University of Denmark, and has more than 30 years' experience in technology engineering and production with emphasis in motion control, fluid management and environmental engineering.