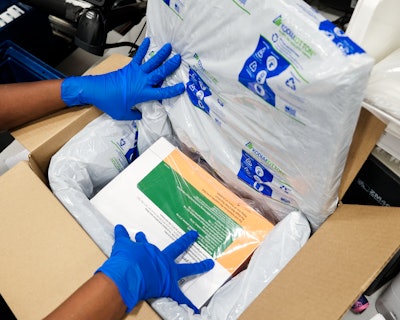 OptumRx specializes in pharmacy care services, catering to more than 66 million people in the U.S. through its network of over 67,000 retail pharmacies and home delivery centers. Given its scale, almost any effort it makes toward increasing the sustainability of its packaging can have a notable impact. With its recent switch from expanded polystyrene to a renewable material that is biodegradable, compostable, reusable, and recyclable for its refrigerated home delivery packaging, the company projects reductions in CO2, water, and energy in the millions of pounds, gallons, and kilowatt hours, respectively.
OptumRx provides home delivery of specialty and maintenance medications, including temperature-sensitive prescriptions such as those used to treat cancer, diabetes, multiple sclerosis, hematology, and autoimmune patients. The temperature range that must be maintained for these refrigerated medications is 2ºC to 8ºC.
"Many specialty medications must be kept within strict temperature ranges in order to arrive at their destinations fully potent and undamaged," says Kirk Nilson, Senior Vice President, Home Delivery Operations at OptumRx. "Temperature control is also critical to avoid breakage or spillage. There are significant safety risks to patients if medications are not maintained at the appropriate temperature."
Until recently, the shipping cases used to deliver temperature-sensitive products were insulated with EPS, a petroleum-based plastic material that is not widely recycled. In an attempt to reduce the environmental impact of its medication home delivery services, OptumRx replaced EPS with KodiaKooler's KodiaKotton, an insulating pad made from 100% renewable cotton wrapped in recyclable low-density polyethylene film.
The KodiaKotton cotton insulation material can be recycled wherever #60 cotton is accepted, and the film liner wherever #4 plastic is accepted. The natural fiber packs are also biodegradable and compostable as tested by a third-party laboratory using ASTM standards. Another end-of-life option is reuse by the consumer, with suggested applications including pet beds, weed barriers, and package cushioning.
As Nilson explains, at OptumRx's fulfillment centers, operators manually hand-pack the home delivery shipping cases with the insulating pads, which comprise an A and B liner that fit perfectly in the box.
By using the new packaging to deliver approximately 4 million prescriptions each year, OptumRx projects an annual savings of nearly 2 million pounds of CO2, 17 million gallons of water, and 4 million kilowatt hours of energy.
"At OptumRx, our priority is ensuring people get the high-quality medications they need, when they need them," says John Mahrt, Chief of Operations at OptumRx. "Our new packaging ensures each shipment maintains the highest standard of quality and effectiveness, while reducing the environmental footprint of our medication home delivery services."