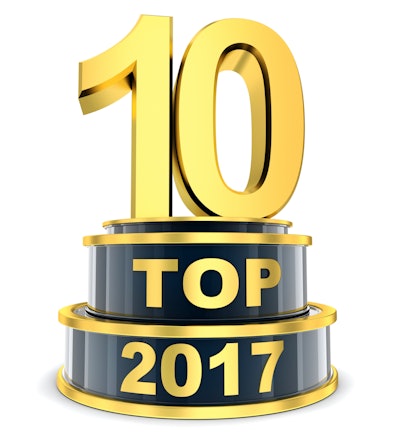 Innovative packages for Allergan's Restasis, Toast's cannabis cigarettes and Bayer's aspirin inspired so much reader attention that they ranked in the Top 10 stories published in 2017 on HealthcarePackaging.com.
FDA-related news generated significant interest among last year's top stories as well, with the most-read article reporting on a new website offering information on the use of symbols in medical device labeling. An FDA recall of an opioid pain medication also made this list.
Readers indicated keen interest in macro issues as well, such as a report on "The Top 5 Forces Shaping Pharmaceutical and Medical Device Industries in 2017 and Beyond," and Roche's announcement of job cuts at a Switzerland facility.
Without further ado, here is a look at the Top 10 stories published last year on HealthcarePackaging.com, ranked from 10 to 1:
10. Bayer's 'Shamrock' Package Cures Design Headaches
A cloverleaf-shaped strip-pack and customized packaging machinery provide peel-open consumer convenience and market differentiation for a fast-acting version of Bayer aspirin sold in foreign markets. Curiously, the pack did not fare well in the U.S. and is no longer sold in this country.
9. The Top 5 Forces Shaping Pharma and Med Device Industries in 2017 and Beyond
The 2016 PMMI Pharmaceutical and Medical Devices—Trends & Opportunities in Packaging Operations Report indicates these industries have undergone significant changes in the past decade as the overall demand for healthcare has expanded.
8. Roche Changes Packaging Strategy, Cuts 235 Jobs
Roche announces plans to handle packaging of each product at the site it's produced. As a result, 235 jobs would be eliminated at its site in Kaiseraugst, Switzerland, which handles quality control and packaging for several small-molecule drugs.
7. 3 Examples of Value-Added Device Packaging
Updating packaging can be viewed as costly and as a compliance hurdle. A Medtronic expert offers examples of innovation that enhance quality and the bottom line, including a coronary catheter dispenser system.
6. Advanced Wound Care Products and Packaging Needs
Wound care/wound healing treatments now on the market and in development offer promise for patients suffering from surgeries, burn wounds, diabetic ulcers, battlefield and accident-related injuries.
5. FDA Tells Endo to Pull Opioid Opana ER From Market
The agency announces that it seeks removal of an extended-release painkiller because its benefits no longer outweigh the risks, saying this was the first time it was taking steps to remove a currently marketed opioid pain med from sale due to the public health consequences of abuse.
4. Serialization Implementation Improves Par Pharma's Efficiency
Par Pharmaceuticals benefits by employing an analytics-based OEE tracking system that digitizes formerly manual data collection processes on multiple packaging lines.
3. Cannabis Cigarette Box Draws from Vintage Luxury
New cannabis cigarettes from Toast use elegantly decorated boxes inspired by the cigarette cases of the 1920s to inspire socializing and celebrating.
2. Allergan Introduces Restasis in a MultiDose Bottle
Dublin, Ireland-based Allergan's Restasis in a preservative-free dispenser replaces single-use vials and reportedly represents the first FDA-approved multi-dose delivery system to handle prescription eye treatment formulations without preservatives.
1. New Website for Med Device Labeling Systems
In April 2017, FDA launched a new website to help the public understand the agency's final rule, "Use of Symbols in Labeling," which allows for the use of symbols in all medical device labeling without additional explanatory text.