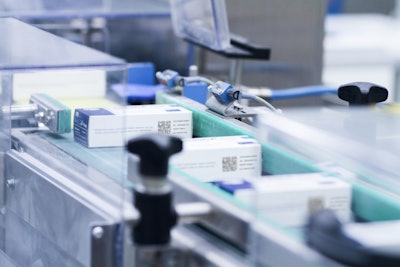 By the time you're reading this, you'll have less than a year to deploy an item-level serialization solution across your packaging facility. By not meeting DSCSA requirements, Contract Manufacturing Organizations (CMOs) and packagers are at risk for penalties. However, you're also missing a huge opportunity to meet pharma brands' needs for compliance data and reporting. Here are tips to make sure you can meet upcoming requirements and take advantage of the competitive benefits serialization can offer.
Fast and efficient deployment
Not all serialization solutions are created equal. With less than a year to go, you need a platform that can be deployed quickly and that comes from a partner with transparent costs and timelines. Below are some key features to look for that offer value beyond regulatory compliance.
• Hosted solution: Building a new system or upgrading on-premises equipment to support serialization can be time-consuming and expensive. Instead, most companies are leaning toward a hosted solution in the cloud that is secure and cuts deployment time. This approach also eliminates costs for hardware, maintenance and management.
• Standards-based: Time is running out for integrations that require lengthy customizations. While very few integrations will be "plug and play," those that leverage EPCIS, the standard in serialization data exchange, allow you to quickly integrate with your trading partners. As your system evolves, universal standards will help safeguard these critical partner connections.
• User-friendly interface and reporting: Training can take time, so choose a serialization platform with intuitive features and user-friendly design to reduce staff training and lower the adoption curve. In addition, a serialization platform with built-in reporting tools allow you to quickly identify and report on regulatory compliance requirements, as well as report on the health of your supply chain.
• Mature platform: You want a platform that's been tested and proven to work in real-world conditions. Ask yourself: How long has this platform been servicing serialization customers? Does it address a wide range of use cases, such as authentication and supply chain insights? Steer clear of fly-by-night platforms that are solely focused on basic compliance functions.
• Total cost of ownership transparency: Get smart about all the elements that go into a serialization solution before you buy. Look for a partner that will lay out all the known and unknown costs, including customizations, integrations, downtime, fees, training, validation and more. A complete list of these hidden fees can be found here.
Getting ahead of the game
Sure, you want to deploy a workable serialization system quickly and efficiently. But don't let a tight timeline keep you from making an informed, strategic decision that can impact your company's future success. You can choose a smart and cost-effective solution, launch it and build on opportunities that a well-designed serialization solution offers. In other words, think big picture. Here are a few reasons why:
• There are fewer pharma brands: There's been a significant increase in pharma brand mergers the last few years. This consolidation may translate into fewer CMO and packaging relationships as pharma brands choose their preferred partners. Only those packaging companies that can enable true end-to-end supply chain visibility will rise to the top. Get ahead of the pack by adopting an advanced serialization platform now that lets you seamlessly connect with and produce valuable information for your pharma clients.
• Data and insights are in demand: It's one thing to create basic connections with partners. What's more important, however, is gathering insights based on actionable supply chain data. Pharma brands are looking for CMO and packaging partners that can leverage data rich, real-time reports to show supply chain efficiencies, diversion, suspicious activity and more. These preferred partners will offer greater business value as pharma brands increasingly use a broader set of supply chain data for better business performance.
• Risk and liability are rising: DSCSA was created to reduce harm to consumers and as such, may be viewed by some as a requirement versus an opportunity. Smarter serialization software helps manufacturers, packagers, distributors and others track drug movements through the supply chain to reduce operational risk and liability. A transparent and more intelligent supply chain with better reporting, suspicious activity alerts and safeguards makes it harder to divert drugs or impact product as it travels through the supply chain. Organizations can reduce lost revenue by addressing supply chain anomalies as they happen—not after.
Until recently, much of the long-term value manufacturers and packaging operations can gain from serialization has been unrealized. It's time to tap into a goldmine of data and gain visibility into critical interactions across trading partner networks. So find a partner that offers the best of both worlds—fast and efficient deployment for today, and strategic insights to ensure your competitive advantage tomorrow.
About Verify Brand: Since 2004, Verify Brand's cloud-based software platform captures information and insights from production to purchase and beyond. To date, the company's website reports that its serialization solutions have been deployed in more than 120 countries in 18 languages.