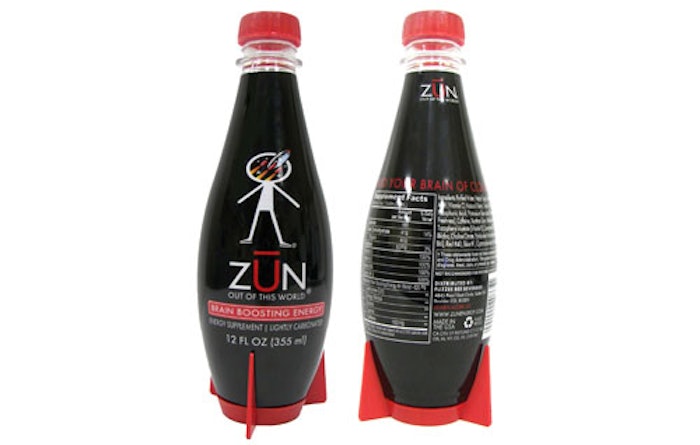 The Fuzzee Bee Beverage Co. is employing packaging to help lift sales for its new brain-boosting energy drink ZŪN (rhymes with moon). Specifically, the PET patent-protected rocket-shaped bottle is decorated with a Pure Affinia™ PETG shrink-sleeve label, printed by
Printpack
.
The five-color label, printed flexographic, provides distinction, with an all-black background designed to make a strong visual impact to help lead customers to associate the bottle with the brand. The label shrinks to the curves on the bottle, which tapers more than 75% at the top.
"The curvature of the bottle created labeling problems that only a shrink sleeve could solve," says Brian Stearns, founder and CEO of Boulder, CO-based Fuzzee Bee Beverage. "In addition, I had tight deadlines to meet due to selling out the product faster than expected. Printpack was able to exceed our expectations."
Asked what were the important considerations in selecting packaging materials for this product, he notes the company was looking for "reliability, top quality, and fast turnaround time."
Stearns points out that the rocket-shaped bottle is extrusion-blown in the U.S., but considers the supplier and other packaging details proprietary. "The package is protected with multiple issued global patents, copyrights and trademarks," he says. "We own all the geometry and molds." Stears says the beverage is filled by co-packers.
Stearns says ZŪN launched in the Denver area last October. "We're working on trial and visibility in this market, and growing a Midwest footprint." The energy beverage is sold at retail locations, with a $2.59 suggested retail price. He also says, "We are scheduled to launch ZŪN Lite this September, in the same packaging, but with different colors."
-Jim Butschli, Editor
Companies in this article