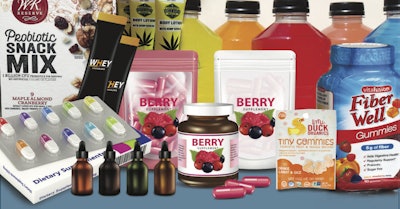 The report, "2019 Nutraceuticals Market Assessment," says consumers are suffering from "pill fatigue," and looking for non-medical ways to stay healthier. Interestingly, growth in nutraceuticals comes from both young millennials and aging baby boomers. With greater mainstream adoption, including planned distribution from CVS and Walgreens, products containing CBD oil are a large part of growth estimates.
Vitamins & Dietary Supplements
Market: The global market for vitamins & supplements is anticipated to grow from $55.2 billion in 2017 to $98.5 billion in 2025.
Packaging Types: bottles, stick packs, pouches, cartons, and pill packs.
Key Takeaways: Nutraceuticals in pill format can use older, existing equipment and are less labor intensive. However, the industry is shifting away from pills and multivitamins towards gummies, vitamin patches, and other delivery methods for supplements.
Functional Drinks
Market: The global market for functional drinks is estimated to grow from $74.4 billion in 2017 to $132.8 billion in 2025.
Packaging Types: bottles, stick packs, and cans.
Key Takeaways: Portability is the key trend for functional drinks with stick packs being the go-to form for ready to mix beverage products. Functional drinks are a growing aspect of the CBD market as well. eCommerce and a need for portability are driving packaging towards stick packs, more flexible Tetrapaks® and low material packaging.
Functional Foods
Market: The global market for functional foods is likely to grow from $79.5 billion in 2017 to $141.7 billion in 2025.
Packaging Types: pouches, sleeves, and cartons.
Key Takeaways: Functional food comes in so many shapes and sizes and packages that functional food products are much more labor intensive. The ability to consume all nutrients within an everyday food product is driving the growth of this sector particularly as the demand for multivitamins in pill format slows.
Download your FREE 20-page Executive Summary here. Looking for an answer to your nutraceutical packaging challenge? Make plans to visit Healthcare Packaging EXPO Las Vegas, Sept. 23-25 for the latest materials and machinery.