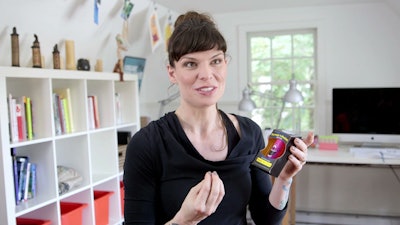 Question: As an independent designer, what is your role in Hyland's new package redesign for Bumps 'n Bruises?
Kara Errickson: This is my first foray in terms of pharmaceutical industry package design. What that means for Hyland's is that sometimes you want to bring in people from outside of your given field or industry to lend a fresh perspective. I'm not a pharmaceutical packaging expert. I'm an industrial designer who has worked in consumer packaged goods, primarily in the personal care industry, which focuses more on glamour and the consumer side of the experience versus the technicalities required for pharmaceutical packaging. Still, this is an over-the-counter product, and packaging is what the consumer sees first.
Although consumers first see the windowed folding carton on the shelf, isn't the real innovation focused on the primary package inside the Bumps 'n Bruises outer carton?
The outer carton is more standard because it is not as difficult to conquer. When looking at this product, I researched how consumers were using it. The product itself is a semi-solid ointment meant for topical use, which gave me a little bit of leeway in terms of material choices. If it would have been a liquid, we could have selected glass or plastic bottles, or laminate films with multiple layers. One of the things I brought up was exploring the option of using a paper-based tube rather than a plastic dispenser. We're using a chipboard material from Chicago Paper Tube & Can Company. We had to design the product formula so that the ointment easily pushes out of the tube when the user is applying it.
How is sustainability built into this particular package?
We use soy-based inks in printing the outer carton graphics. We use the unique paperboard primary package. All the raw materials that go into this package are sourced from Midwest-based suppliers, reducing the carbon footprint. And we use a water-based, food-safe adhesive to apply the printed wrap that's applied to the inner tube. Printing on the outer carton also explains that the product is free of PABA, phthalates, petrolatum, synthetic preservatives, fragrances, parabens, dyes, and most common allergens.
Watch a video on the recycled paper applicator here. (Please scroll toward the bottom of this web page.)