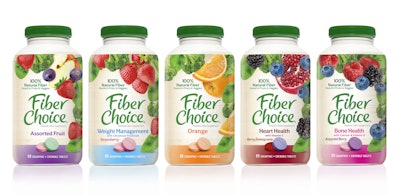 As "the largest independent provider of over-the-counter products in North America," Tarrytown, NY-based Prestige Brands sought to change the look of its Fiber Choice supplement brand packaging.
"Fiber Choice was originally launched in April 2000," notes Jacob Martin, Brand Manager/Digestive Health, Prestige Brands. "The reason for the new branding was to rearticulate the consumer proposition in an easy-to-understand way that emphasized the key point of difference for Fiber Choice of 100% natural fiber found in fruits and veggies. The redesign did not involve structure."
Newly redesigned Fiber Choice is now popping up on store shelves, with a fresh fruit and vegetable visual story and simplified, strengthened brand architecture. Prestige Brands tapped brand design partner Little Big Brands (LBB) for the strategy work and package design.
"Fiber Choice has a significant ingredient advantage over competitors in the marketplace. It is made from 100% natural fiber found in fruits and vegetables, which is highly meaningful to consumers. But the brand clearly needed packaging that communicated that truth," says Erin Kanter, LBB's Strategy Director.
The project included ethnographic, qualitative, and quantitative strategic work to better understand the consumer mindset and brand equities, as well as validate and enhance the creative design process. With that knowledge guiding the creative work, each element was reimagined and optimized to embody the natural fiber promise.
The design was stripped of dark greens and multiple levels of color coding, and given an ingredient overhaul with photorealistic fruits and vegetables taking a more prominent role in the overall design. Each label features a different mix of cascading fruits and vegetables based on the formula.
Strong color coding anchors the bottom of the label and helps clearly differentiate the SKUs. A light wood wash lightens and brightens the overall look and provides a canvas for the new Fiber Choice hand-drawn logo.
Third-party manufacturers supply packaging components, which include an extrusion/blow-molded high-density polyethylene bottle, a 2-mil clear "hi-shrink" polyvinyl chloride label printed flexographically in six colors, and an injection-molded polypropylene closure.
"The redesign was really successful in bringing a lightness to the brand, which let's face it, is ultimately what you hope to feel after taking it," says John Nunziato, LBB's Chief Creative Officer. "The idea of fresh fruits and veggies are much stronger now, as is flavor appeal. This is as close to food in the produce aisle that you can get with a fiber supplement, and now the branding clearly reflects that."
Prestige Brands' Martin says, "Retailers have reacted very positively as they feel it modernizes the brand's look and feel. It's very hard to quantify at this point as many SKUs are just in the process of shipping."
Fiber Choice is available at major drug and grocery retailers across the country, with the suggested retail price for tablets ranging from $9.99 to $13.99. Product varieties include Assorted fruit, Orange, Strawberry Weight Management, Heart Health Berry Pomegranate, Bone Health Assorted Berry, and Fruity Bite gummies.
Companies in this article