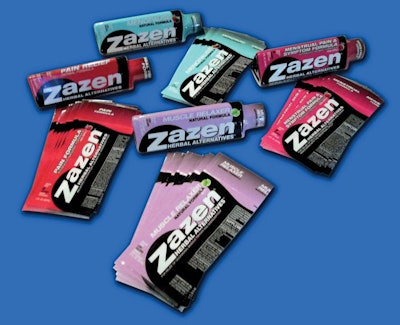 Providing tamper-evidence and high graphic impact, a gravure-printed polyvinyl chloride shrink sleeve for Aliso Viejo, CA-based Zazen LLC's line of herbal pain-relief drinks provides the pizzazz needed to compete in a crowded category.
Zazen Herbal Alternatives are available in four varieties formulated "as an alternative to dangerous pharmaceuticals," says Zazen CEO David Christenson. "The products are based on Ortho Molecular Science," he says. "There is no need for pharmaceuticals if natural products are used."
To help its 2-oz shot product to stand out on shelf, Zazen first chose a triangular bottle shape to differentiate it from the round bottles used by the competition. The PET bottle is made in Asia using a proprietary mold. Zazen then chose a full-body heat-shrink label from Ameri-Seal that conforms to the complex angles of the container and cap.
"The PVC material was selected for its ability to shrink over the cap for maximum tamper evidence and coverage without flaws," says Christenson.
Graphics for the line, designed in-house at Zazen with help from an outside firm, were created to call attention to the function of each formula. Different colors are used for each variety: red for Pain, purple for Muscle Relaxer, pink for Menstrual Pain and Symptoms, and blue for Menopause. Each label uses from four to five colors.
Ameri-Seal not only supplies the labels, but it also heat-shrinks them onto filled bottles, supplied by Zazen, and loads them into a POP display carton.
Zazen Herbal Formulations are sold at Walmart, CVS, Albertsons, and other retail stores, for $2.99 per bottle.
Companies in this article