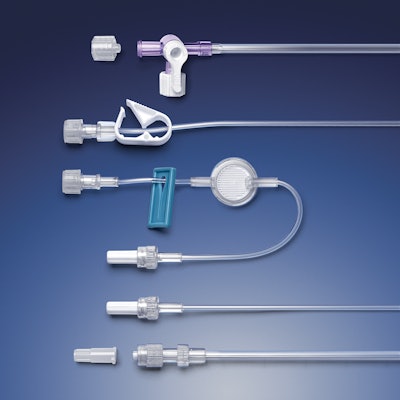 Qosina introduces five new bonded, off-the-shelf extension lines (part #s 33066-33070), each of which are unique in that they are designed with a combination of components. Four of the sub-assemblies include both female and male luer locks, and one contains a stopcock. All five are assembled with female and male caps and various tubing lengths. Other components include a slide clamp, pinch clamp or hydrophilic filter.
Designed for ease of use and cost-effectiveness, these extension lines provide added flexibility to gravity and infusion sets. Because they are pre-assembled, they aid in reducing time to market in the development and production phases.
Qosina also offers a wide selection of bonded, high pressure, insert-molded and high durometer extension lines, and can provide custom configurations to meet exact specifications.
Qosina is a global supplier of OEM single-use components to the medical and pharmaceutical industries. The company offers free samples of most items, low minimum-order requirements, just-in-time delivery, modification of existing molds, and new product design and development. Qosina is ISO 9001, ISO 13485 and ISO 14001 registered.
Companies in this article