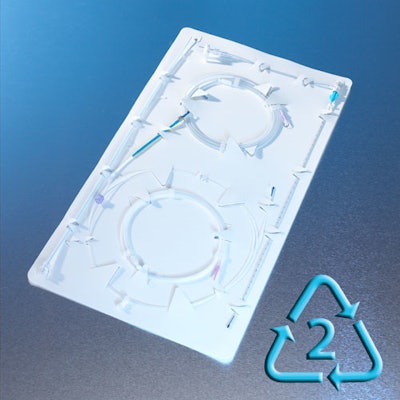 Die-cut insert cards started out as a niche business for
Beacon Converters
to address the needs of customers who were dissatisfied with the performance of paper based SBS (solid-bleached sulphate) insert cards, which are less sturdy and have an inherent predisposition for particulate generation.
Why go to all the lengths of keeping your product free from lint and specifying Tyvek for its low-linting characteristics and then insert a piece of die-cut paperboard in your package?
The additional benefits of die-cut resin cards were soon realized by Beacon customers. One customer commented that by replacing the current SBS card with a Beacon HDPE (high-density polyethylene) card, the performance of the card was improved, with better locking features and strength. The HDPE cards allowed customers to redesign the card to better protect the product, and at the same time reduce the size of the pouch and folding carton, downsizing the overall packaging footprint. These cumulative savings were significant. Die-cut insert cards used inside a pouch can in many applications replace the need for a larger/bulkier tray while still providing the necessary protection and organization, and reducing the size and production costs associated to the packaging system.
Another eco-conscious European customer needed to label its insert cards for recyclability. The company did not want an inner label that would require paper-based material inside the sterile barrier, or having to deal with ink-compatibility issues. Embossing provided the ideal solution--the HDPE cards are embossed with a recycling symbol and material identifier. In addition to recycling symbols, embossing can be used to add custom logos and product usage information.
Material offerings have expanded recently to include other substrates, such as white HDPE, natural HDPE, polypropylene (PP) and polyester cards. The polypropylene cards are typically used for higher-temperature applications, or where the properties of PP are needed for the package system. Polyester cards are clear and can be used where product visibility is important or where more complex folding is required. Various thicknesses are available and continue to expand as customer demand increases.
"We really see these cards taking off as customers become aware of the many options they have and the flexibility they have with die-cut options. They are stored and shipped flat so there is savings there in terms of storage and shipping economy. They can also be done in small runs, and tooling is inexpensive compared with tray tooling, so customers are willing to try them out with minimal investment," states Alison Tyler, Beacon's technical director. She says that while many devices will continue to require a tray, others do well with custom non-paper-based insert cards, and interest [in them] is growing.
Companies in this article