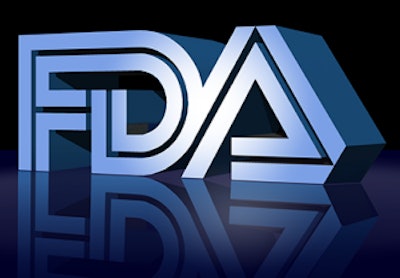 Acting FDA Commissioner Ned Sharpless MD issued an Oct. 25 statement on potential medical device supply chain effects due to interruptions in ethylene oxide (ETO) sterilization services.
"The recent closure of a Sterigenics ethylene oxide sterilization facility in Illinois, the temporary closure of another Sterigenics facility in Georgia, and the potential closure of a large Becton Dickinson sterilization facility in Georgia could affect the availability of some sterile medical devices used by health care delivery organizations and patients," said Sharpless.
Many medical devices are sterilized with ETO, including those used for emergency and routine procedures. Unfortunately, at present, no "readily available processes or facilities" serve as an alternative to ETO sterilization. As Sharpless states, "Without adequate availability of ethylene oxide sterilization, we anticipate a national shortage of these devices and other critical devices including feeding tube devices used in neonatal intensive care units, drug-eluting cardiac stents, catheters, shunts and other implantable devices."
Why is this happening?
As the release said, FDA acknowledges concern over the release of ethylene oxide into the environment at unsafe levels, and that these concerns have resulted in some state actions against facilities employing the method. The release highlights the following recent events.
February 2019: The Illinois Environmental Protection Agency (EPA) issued a state EPA Order to stop Sterigenics from sterilizing medical products and other products with ethylene oxide at their Willowbrook, Illinois, facility. The state EPA order was due to the presence of levels of ethylene oxide higher than the EPA found to be acceptable in the air around the facility. This closure caused a temporary shortage of pediatric breathing tubes.

August 2019: Another Sterigenics contract sterilization facility, in Atlanta was closed while it undergoes construction to reduce ethylene oxide emissions.

October 2019: The Sterigenics Willowbrook, Illinois, facility announced they would not reopen.
"Because the number of ethylene oxide contract sterilization facilities in the U.S. is limited, we are very concerned that additional facility closures could severely impact the supply of sterile medical devices to health care delivery organizations that depend on those devices to take care of patients. The impact resulting from closure of these and perhaps more facilities will be difficult to reverse, and ultimately could result in years of spot or nationwide shortages of critical medical devices, which could compromise patient care," said Sharpless.
Next steps
FDA is holding a public advisory committee meeting on Nov. 6 and 7, 2019, to discuss how best to encourage innovation in medical device sterilization.

FDA says it is working with medical device manufacturers and healthcare delivery organizations to help prepare for and minimize adverse effects on patients who rely on the impacted devices. As Sharpless noted, "In light of the possibility of continued ethylene oxide sterilization facility closures, we are again alerting the public to growing concerns about the future availability of sterile medical devices and impending medical device shortages."

If you use ETO facilities, FDA urges you to assess your inventory for downstream impacts on product distribution.

For certain critical situations, FDA may look at importation from outside the U.S. if the issue cannot be addressed domestically.

Cooperation is needed. "So as to not exacerbate anticipated product availability concerns, we urge facilities to work together and not hoard product or attempt to purchase larger quantities of devices beyond their normal purchase volume."

Reach out. FDA encourages medical device manufacturers and healthcare providers to communicate regarding potential supply issues (how to report an issue). "It's never too early to contact us – the sooner we are aware of a potential shortage, the better we can assist in proactively developing a plan to mitigate its effects on patient care."
Actions taken
FDA has already begun stepping in to address immediate impacts. For Smiths Medical's Bivona tracheostomy breathing tubes, which had been processed at the Illinois Sterigenics facility, FDA helped Smiths to get a timely site change to keep supply interruptions to a minimum.
Looking ahead
As will be discussed at the Nov. meetings, FDA is looking at alternatives in the longer-term. "We share the public's objective to reduce over-reliance on ethylene oxide for medical device sterilization. And therefore, in addition to our shortage mitigation efforts, we have also been addressing the broader need for innovation and improvements to medical device sterilization techniques in general."
This year, FDA announced two new innovation challenges to "encourage ideas from stakeholders, academics, industry and others about novel solutions for improving sterilization processes. This includes a call to identify new or alternative sterilization methods and technologies that are alternatives to those that use ethylene oxide, and another to develop new strategies to reduce ethylene oxide emissions."
FDA is also working with the EPA to ensure that the public is protected from significant risks.
They are taking the potential shortage very seriously while balancing public health concerns from ETO emissions. Sharpless explained, "We want to be clear that we understand that there are very real consequences that medical device shortages have on patients, and we're committed to doing everything in our authority to help mitigate the adverse patient impact these sterilization facility closures are expected to have. We're also calling on all stakeholders—manufacturers, contract sterilizers, government agencies and other public health advocates—to join us and do your part to avert new device shortages and ensure patients have access to important and life-saving medical devices."