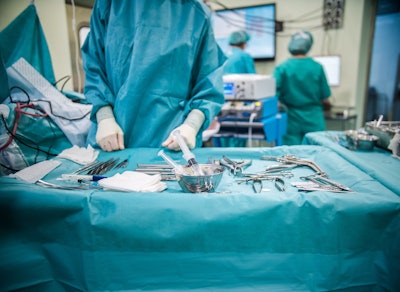 Among the most compelling aspects of the Data Bridge Market Research's Global Medical Device Sterilization Market—Industry Trends and Forecast to 2025 is its notation of the following product launches:
• Hu-Friedy's 2018 introduction of AdvantaClear® Surface Disinfectant in 2018. These disinfectant wipes clean and disinfect dental surfaces, killing a spectrum of disease-causing microorganisms. Data Bridge says, "AdvantaClear expands Hu-Friedy's reach as a primary source of infection control products, which can cover instrument processing, cleaning and sterilization monitoring, waterline cleaning, and hand care, and also new entry into surface disinfection."
• In 2018, Getinge AB announced its GSS Steam Sterilizer series for the life science industry. Sterilizers are available for the biomedical research and pharmaceutical production and range from steam sterilizers, low-temp sterilizers and loading equipment for sterilizers.
• In June 2018, Steelco s.p.a presented the SPE during ACHEMA 2018, which the report explains, "can be easily adaptable to any of these applications, but also covers a fully automatic, continuous processing and transfer system."
• In 2017, Steris Corp. unveiled its AMSCO® 430LS and the 630LS Medium Steam Sterilizers with "energy-efficient systems [that] use sustainable technology to meet the performance and versatility demands of modern research labs."
The report forecasts the global medical device sterilization market to register a CAGR of 8.4% between 2018 to 2025.
Some additional findings from the Data Bridge report include the following:
• Sterilization has been in practice from the past 120 years and the medical device [field] has been changed by the advancement of new technologies.
• Sterilization not only kills disease-causing microorganisms but also eliminates the transmissible agents such as bacteria and spores through the use of sterilants such as radiation, chemicals, heat among others, thus limiting the risk of exposure to life-threatening diseases.
• In 2018, the low-temperature sterilization segment showed growth, however, the ionizing radiation sterilization segment was expected to grow at the highest CAGR through 2025.
• On the basis of sterilization consumables and accessories, sterilization indicators are expected to demonstrate the highest CAGR through 2025.
• In 2018, gamma sterilization services grew at the highest CAGR.
• On the basis of type, the report segments the market into in-house and contract sterilization. In 2018, contract sterilization segment grew at the highest CAGR.
Companies in this article