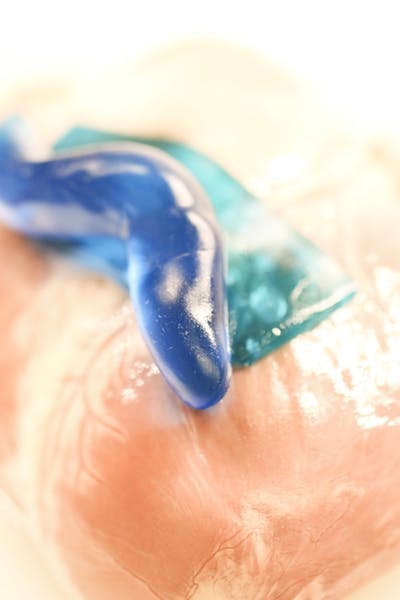 Harvard's Wyss Institute comes up with some amazing, biologically inspired innovations to solve important problems in areas like healthcare and environmental science. We recently reported on a point-and-shoot technique for producing wound care nanofiber scaffolds at the point of use.
The institute has done it again: Researchers have come up with a novel, flexible adhesive material, this time taking cues from a slug (the Dusky Arion).
The bio-glue can adhere to wet surfaces including skin and cartilage, unlike typical bandage adhesives. The applications go far beyond solving the issue of bottom-of-the-pool Band-Aids.
Snug as a slug
First author Jianyu Li, Ph.D.was inspired by the way that the Dusky Arion, a slug found in Europe and parts of the U.S., secretes a mucus that glues it in place when scared so that predators cannot pry them free. To mimic this mechanism, Li and his colleagues created "a double-layered hydrogel consisting of an alginate-polyacrylamide matrix supporting an adhesive layer that has positively-charged polymers protruding from its surface," as reported by Lindsay Brownell in a recent Wyss article.
The polymers bond to biological tissues in three ways, making it an extremely strong adhesive. Li says that the matrix layer is an important component, explaining, "Most prior material designs have focused only on the interface between the tissue and the adhesive. Our adhesive is able to dissipate energy through its matrix layer, which enables it to deform much more before it breaks."
Dave Mooney, Ph.D., an author and founding Core Faculty member at the Wyss Institute notes that "a very strong adhesive force and the ability to transfer and dissipate stress" have not typically been "integrated into a single adhesive."
What has research shown so far?
The bio-glue has been shown to be stronger than existing medical adhesives on the following wet and dry pig tissue surfaces: skin, cartilage, heart, artery and liver.

When implanted into rats, it maintained stability and bonding for two weeks.

The adhesive successfully sealed a hole in a pig's heart, even after tens of thousands of cycles of mechanical stretching to simulate cardiac function.
An interesting and promising observation was that the bio-glue did not cause "tissue damage or adhesions to surrounding tissues when applied to a liver hemorrhage in mice – side effects that were observed with both super glue and a commercial thrombin-based adhesive," said Brownell.
Potential Applications
Brownell noted that this could be used either as a cut-to-size patch, as an injectable solution or as an attachment mechanism between a medical device and its target structure to keep it in place.
Co-author Adam Celiz, Ph.D. says, "This family of tough adhesives has wide-ranging applications… We can make these adhesives out of biodegradable materials, so they decompose once they've served their purpose. We could even combine this technology with soft robotics to make sticky robots, or with pharmaceuticals to make a new vehicle for drug delivery."
Donald Ingber is the founding director at Wyss, the Judah Folkman Professor of Vascular Biology at Harvard Medical School and the Vascular Biology Program at Boston Children's Hospital, and a Professor of Bioengineering at Harvard SEAS. "Nature has frequently already found elegant solutions to common problems; it's a matter of knowing where to look and recognizing a good idea when you see one," says Ingber. "We are excited to see how this technology, inspired by a humble slug, might develop into a new technology for surgical repair and wound healing."
For another look at mollusk-inspired wound healing, check out our recent "Sea Creatures Could End Scarring."