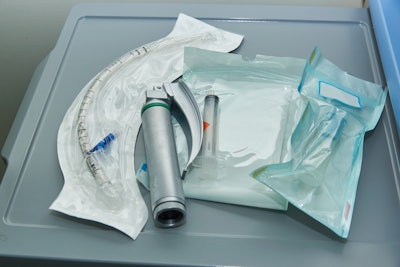 Getty Images
Ahead of Pharmapack Europe 2023—which returns to its traditional February timing for the first time since the start of the pandemic—Healthcare Packaging caught up with a panel of Pharmapack experts to get their insights into opportunities and trends across the industry.
Pharmapack Europe which will run in hybrid form this year is extending its value both pre- and post-event, with the online platform opening on January 18 and running until February 17. The online version will provide access to exclusive educational sessions, and a platform to schedule meetings with exhibitors and bookmark important sessions.

The event also promises to be the biggest in Pharmapack's history with a 27% increase in visitors and circa 5500 pharma executives from 75 different countries expected to attend. Additionally, more than 350 exhibitors will be present representing companies across drug delivery and packaging supply chains. The in-person event takes place February 1 to 2 at Paris Expo, Porte de Versailles in Paris, France. Register at Pharmapack Europe.
Several industry experts from Team Consulting—some of whom will discuss "Innovative Strategies Driving a Patient-Centric E-Culture" at the Pharmapack conference to be held on Feb 1–offer their views on how patient-centric and user-friendly designs, increased focus on sustainability, and suitable alignment with the dynamic regulatory system, can unlock immense opportunities for companies innovating in the packaging and drug delivery space.
Patient-centric opportunities in biologics
Brennan Miles, Head of Drug Delivery: There are lots of very interesting new and developing therapy areas to keep an eye on throughout 2023. One of the most rapidly evolving fields is in biologics. These innovative medicines are used to treat the root cause of many complex diseases in areas such as rheumatology and oncology, but are also used in cardiology, dermatology, gastroenterology and neurology, among others. In addition, sector growth in biosimilars has an important role to play in the democratization of healthcare, enabling more global access to treatments at a lower cost.
The major challenges in biologics however are both the high treatment costs—largely driven by complex manufacturing processes—and complications around transport/storage and drug administration. Factors such as a need for low temperatures during shelf-life storage and a requirement to deliver in high volumes, often by intravenous infusion, are all challenges that need to be overcome. To realize the opportunities in this space, there is a need to simplify the manufacturing processes and produce drugs that can be stable at higher temperatures, while also simplifying the therapy administration process to improve access for a wider range of patient and income groups.
Another trend we are seeing is the rise in patient-centric approaches steering new formulation decisions in this sector. The "market pull" is for simple, at home, subcutaneous administration of therapies such as oncology treatments that would have previously only been available as a large volume infusion in a hospital setting. This, in turn, is highlighting the need for new delivery systems such as high-volume injectors and wearable, on-body delivery systems, that can meet the requirements for routine self-administration of more concentrated biologic therapies.
The key to developing devices to suit this need is through a combination of deep understanding of mechanical requirements (and trade-offs) to accommodate increased formulation viscosities and higher payloads. Careful behavioral science input into the design will also be needed to ensure that the device solutions are easy to use as well as being safe and effective.
Ultimately, in 2023 we can expect to see a continued focus on novel technologies for delivery of higher payloads/viscosities for self-injection, as well as a continued demand for other low-cost devices to suit generic therapeutic applications for both the respiratory and injectables markets.
The move to hybrid healthcare in post-pandemic populations
Ben Cox, Head of Digital Design: Over the past few years Healthcare professionals (HCPs) have been noting massive growth in digital tools, however these tools are not replacing in-person care, rather they are augmenting it.
Many of the digital approaches that were used at scale during the pandemic, such as telehealth in GP surgeries, have continued and have become an expected part of the patient journey. While these digital tools became mainstream through necessity, their continued use post-pandemic has been an important step towards increasing the adoption of other digital solutions more widely.
Previous concerns around patient access to the technologies required to enable digital solutions also appear to be diminishing, with the number of smartphone subscriptions worldwide surpassing 6.5 billion in 2022 and predicted to rise to 7.5 billion by 2027. The pandemic proved to be a steep technology learning curve for many populations, owing to the use of government issued apps requiring people to scan QR codes and upload test results digitally. As smartphone usage continues to proliferate, the key for medical device developers will be to ensure that any digital experiences they introduce are easy to use, add value, and are accessible to all user groups.
Wider horizons for medical device sustainability
Alastair Willoughby, Head of Mechanical Engineering: As sustainability increases in importance across the industry, the horizons that are being considered are widening. Historically, many discussions around device development have been focused on material selection and incremental improvements to existing architectures and business models.
As net zero targets begin approaching for pharma companies, healthcare providers, and governments, more radical approaches are needed to achieve these in time. Drug delivery is mirroring the wider world, with a trend towards not just product sustainability, but also the total impact, through scope 2 and 3 emissions. This is forcing all parties to look further afield at their supply base to understand the impact that those businesses have.
In the device field, a wider consideration of reusable and re-processable devices, falling under the circular economy grouping, is again widening the horizon of what is possible and, more importantly, what is actually needed by patients.
Furthermore, consideration of the whole lifecycle needs to be planned in from the beginning of the development to ensure the maximum gains can be made, for example designing to minimize interim transportation packaging. As new medical devices and technologies can often take upwards of five to seven years to reach the marketplace, our expectation is that we won't see any pivotal changes on this topic in 2023.
However, we do expect that pressure will continue to ramp-up (particularly around new developments) to make sure that sustainable development strategies are included and documented as part of the planning process thus putting into action the groundwork for more sustainable devices in the future.
Pharma companies placing increasing focus on user-based design
Paul Greenhalgh, Director of Design: Having a device that not only functions effectively but that provides a positive user experience can play a significant role in improving patient adherence and clinical outcomes. A human factors program is much more than a regulatory tick box exercise. Adopting a truly user-centric design process is essential to develop products that meet the practical and emotional needs of our users.
In line with this, pharma companies are placing increasing importance on the user experience and the need to understand their patient's behaviors, beliefs, and needs. A 2022 survey of drug delivery professionals by Team Consulting found that 25% of respondents felt that understanding the unmet needs and challenges of their customers was one of their biggest challenges at the start of a development.
This could in part be related to the recent shift in many drug payment models from a focus on volume to a focus on value for the patient. These outcome-based contracts, whereby treatment payments are linked to positive patient outcomes, are encouraging drug manufacturers to take a more proactive approach to ensure and demonstrate the effectiveness of their products in the wild.
While the most important patient outcomes are of course health related, patient quality of life is also another key factor. In order to achieve both, pharma companies need to ensure that both the treatment and the device used to deliver it meet their patient's needs.
What the proposed changes to the MDR mean for the industry
Ian Wilde, Director of QA & RA: On Jan 6, 2023, the European Commission published a proposal to amend the European Medical Device Regulation (MDR) with respect to the transitional provisions for certain medical devices, which are currently due to end on the May 26, 2024. The proposed amendment seeks to delete the "sell off" deadline contained within the MDR, thereby allowing devices placed on the market after the end of the transition period to continue being sold until their actual expiration date.
This proposal is being driven by a realization on the part of the European Commission that the current overall capacity of notified bodies remains insufficient to carry of the tasks required of them, coupled with the fact that many manufacturers are not sufficiently prepared to meet the strengthened requirements of the MDR by the end of the transition period. This lack of capacity has been identified as a real threat to the continued availability of medical devices on the EU market. The Commission's proposal identifies a total of 36 notified bodies currently designated under the MDR; with a further 26 applications currently being processed. As of October 2022, notified bodies reported they had received altogether 8,120 applications from manufacturers for certification under the MDR and had issued 1,990 certificates in accordance with the MDR.
Based upon an estimate presented by notified bodies to the Medical Device Coordination Group (MDCG) on November 17, 2022, the number of certificates issued by May 2024 may only reach around 7,000 if the current rate of certificate issuance remains the same with no changes to current conditions in stark contrast to the near 25,000 valid certificates issued under the AIMDD and MDD that will expire before May 26, 2024.
Faced with this significant shortfall in capacity, it seems inevitable that the European Commission had to act to maintain the supply of medical devices into the EU market. The deletion of the "sell-off" deadline will further ensure that safe and effective devices remain available beyond the arbitrary date applied. This will mean that manufacturers and distributors won't have to engage in extensive stock build to maintain supply of devices after the May 2024 deadline. Distributors will also not be under pressure to sell on devices that will have to be scrapped after the 12 month sell-off window closes.
The change will also avoid potentially significant numbers of devices simply being withdrawn from the EU market due to the manufacturer's EC certificate issued under the MDD having expired, which will be significant for manufacturers mainly operating in the EU market that have not had time to transition due to constraints on notified body availability.
Companies in this article