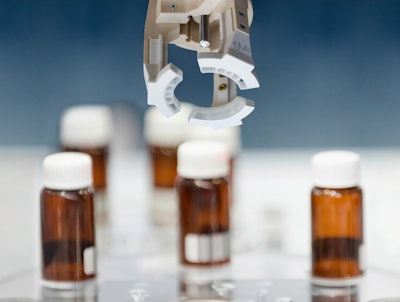 The FDA acknowledges that "advances in material science, digital health, 3D printing, as well as other technologies continue to drive an unparalleled period of invention in medical devices."
The perspective comes from a Nov. 26, 2018 statement by FDA Commissioner Scott Gottlieb and Jeff Shuren, Director of the Center for Devices and Radiological Health, outlining transformative new steps to modernize FDA's 510(k) program to advance the review of the safety and effectiveness of medical devices.
FDA's Medical Applications of 3D Printing web page notes that commercially available 3D-printed medical devices include instrumentation, implants and external prostheses. Says the agency, "Some devices are printed from a standard design to make multiple identical copies of the same device. Other devices, called patient-matched or patient-specific devices, are created from a specific patient's imaging data."
The report says 3D printing/additive manufacturing can also "be used to reduce waste by using fewer raw materials and require fewer manufacturing steps." The agency also points to the patient angle, noting, "Scientists are researching how to use the 3D printing process to manufacture living organs such as a heart or liver, but this research is in [its] early stages of development."
3D printing labs in hospitals represent an emerging trend, according to the 2017 ASME.org article, Top 5 Ways 3D Printing Is Changing the Medical Field. The story explains that this work "focuses on printing patient-specific models prior to surgery to look at a patient's specific anatomy." Low-cost prosthetics, customized medical implants, customized protective devices and aids, and future biomaterials for organ structures and complex organs represented the other four 3D printing methods.
A Nov. 26, 2018 Business Wire report describes an exciting 3D printing application involving the model of a patient's left atrial appendage "created with Stratasys and Materialise technology… intended to allow surgeons to select the appropriate device and plan the optimal approach to occlude the LAA."
3D printing in packaging
Beyond its therapeutic uses for patients, 3D printing is also involved in the packaging space. One example is Johnson & Johnson Medical Devices Companies' Center for Service Innovation at the Texas Medical Center, which includes a 3D printing lab that's part of the company's effort to accelerate breakthrough medical device technologies.
Quadpack's department of Design and Advanced Technologies has invested in the latest 3D printing technology at its U.K. research and design facility, using a Stratasys J750 printer to accelerate the early stages of custom package design and development, while helping to test new ideas.
The department uses the new machine for three kinds of model-making:
• Prototype models help trial ideas for new references in Quadpack's own Q-Line range of packaging.
• Closer to production, trial molds are printed for low-volume testing of the final product.
• For the end material, the trial molds are compatible with the production lines at the Quadpack Plastics injection-molding plant.
Jeremy Garrard, Director of Design and Advanced Technologies, says, "With 3D models and trial molds, we can make ideas a reality faster, helping us to develop the right products for our Q-Line range, with an efficient and accelerated industrialization.
"The Stratasys J750 is key to achieving faster time to market, making visualization of bespoke products easier. For clients, a high-quality 3D model is a sure way to see what the finished product will look like. You can see it, feel it and touch it. It makes the idea real," he adds.
Plastic grippers made for packaging machinery (shown) can also resolve issues for manufacturers. According to igus, cosmetic producer Carecos Kosmetic GmbH used the supplier's iglide I150 in 3D printing that allowed it to save up to 85% of the cost and 70% of the manufacturing time compared to previous aluminum parts. The 3D-printed grippers, says igus, "are also seven times lighter than metal grippers."
In developing its new LAB+ ASEP TECH Blow/Fill/Seal machine, Weiler Engineering took 3D printing into account. "The pace of technological change has been steadily increasing such that a multitude of innovations have been used to improve our equipment design," explains Joe Immordino, Weiler's Director of Engineering. "Computer-aided drafting coupled with simulation and change control are still at the core of the engineering process, while 3D printers and laser-based technologies are becoming more prevalent on the design end. Sharing 3D electronic design information between engineers, vendors, manufacturers, quality control, assemblers, and technicians has improved the communication process between stakeholders."
A DHL Research Brief, Digitalization And The Supply Chain: Where Are We And What's Next, indicated that 3D printing was ranked by its survey respondents as the third-most important physical technology, behind robotics and autonomous vehicles (AVs).
Promising future
The global 3D printing market, according to a recent Envision Intelligence report, was valued at $26.51 billion in 2018. Envision estimates it will reach $33.74 billion by 2024. That's a remarkable 26.75% CAGR. The report notes the following medical trends:
• With the help of 3D printing, 'In air microfluidics' is a successful method of printing 3D structure with living cells. This is a special technique that enables the fast and in-flight production of micro building blocks that are viable and help in repairing the damaged tissues.
• New ears for children can be developed using 3D printing by collecting the cells called chondrocytes, which are used to grow the new cartilage.
Despite 3D printing's promise, Envision's report says there are limiting factors for 3D printing. They include limited availability and high cost of materials, lack of skilled labor and size of outputs generated."
Limitations aside, 3D printing also offers exciting opportunities for the future of healthcare. That was demonstrated in a presentation at last year's Global Forum 15th Annual Temperature Controlled Life Science Supply Chains event where Paul Zikopoulos of IBM showed a video of a patient waking up in the middle of the night with an asthma attack. With his "smart" inhaler connected to the Cloud, the patient uploaded his conditions to his physician who in turn recommended a treatment, then forwarded the order directly to the patient's home 3D printer to manufacture the pill.
Whether it's a printer at a patient's house, in a hospital setting, or in a packaging machinery maker's facility, 3D printing is more than a not-too-distant future technology—it's today's reality.
Companies in this article