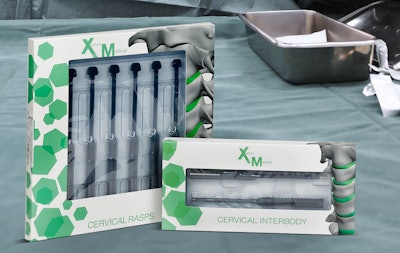 Spinal implants and instruments typically arrive at a hospital or clinic in metal trays, without any sterile barrier system to protect them against pathogens. As such, they require medical facilities to sterilize them prior to use. Combine that with the growth of surgery centers and the need for facilities to better manage their purchasing and operational costs, and it becomes evident that the timing is perfect for packaging to step up to the plate and address these medical device sterilization challenges.
Enter Xenco Medical. The San Diego-based medical device company designs, manufactures, and markets composite-polymer spinal instruments with spinal implants pre-attached. The company sells 14 products, 536 product variations, and 18 packaging configurations.
Says Jason Haider, the company's CEO, "We are the first spinal company to commercialize this technology and have had traction across the country. Sterile packaging both our instruments and implants together has transformed the logistics landscape for both hospitals and surgery centers," he contends.
Haider, who founded the company in 2011, says, "As devices that deteriorate with steam sterilization cycles, reused instruments and their corresponding implants arrive at each surgery less precise than their original condition and with slightly altered surface properties through the accumulation of fine minerals found in the steam. With the proper calibration of instruments being critical in the surgical setting, this deterioration of reused instruments is, unfortunately, often discovered through a mechanical failure during surgery. By bridging materials science, mechanical engineering, and sterile-packaging, Xenco Medical's single-use systems are the first composite-polymer systems of their kind.
In the following Q&A, Haider discusses medical device packaging and sterilization issues.
Healthcare Packaging: What are some of the dangers associated with reused surgical instruments/devices?
Haider: Tasked with sterilizing increasingly complex surgical devices using the same limited equipment and procedures developed years earlier, healthcare facilities across the U.S. have reported numerous incidents of infection-risking sterilization failures. This was apparent in 2015 when the Centers for Disease Control released an urgent public health warning through HAN 00382 to alert healthcare providers and facilities about a rise in infection control lapses due to the improper sterilization of reusable medical devices across the country.
The CDC alert was motivated by a rise in instances in which patients were notified that they were at increased risk of infection due to failures in disinfection and sterilization of medical devices. This was also apparent in June of this year, when the Colorado Department of Public Health investigated a major incident at a hospital in which around 5,800 patients were notified that they may be at risk of surgical site infections or exposure to hepatitis B and hepatitis C because of improperly sterilized medical devices.
The Colorado Department of Public Health investigation found 76 instances of contaminated surgical instruments and trays over a roughly one-year period and that the contaminants included chunks of bone, blood, cement, dead bugs and hair. It's become apparent that reused medical devices have become an increasingly dangerous sterilization challenge because of their evolving geometric complexity and the sheer number of instruments required to be cleaned after each surgical procedure.
How do Xenco instruments address many of these sterilization challenges?
As sterile, single-use surgical systems, Xenco Medical products ensure that instruments and implants are protected from the kind of pathogens that are found on reused devices, which have been found to be vulnerable to bioburden.
For instance, in 2017, the Pennsylvania Patient Safety Authority released an article on infection prevention noting not only that the current design of medical devices created ideal spaces for bioburden and surface biofilms but that there has been an increase in the number of bioburden-related events over the past decade.
Beyond the benefits of protection against these kind of pathogens, surgeons have noted the benefits of having instruments that are always in peak condition. Reused instruments, which are used in hundreds of patients and undergo hundreds of sterilization cycles, go out of calibration, which becomes a problem during surgery. The deterioration of these reused metal systems has also led to intraoperative breaking of instruments, because they are used until mechanical failure. Our composite polymer systems are packaged and used in their optimal condition.
Please describe how sterilization is used in sensitive medical devices for surgical applications?
To adhere to FDA's rigorous standards for the sterility of medical devices, manufacturers must employ thorough testing to demonstrate a package's resistance to environmental factors that might threaten the sterility of its contents. This testing is designed to protect against factors like the transport and aging of the packaging material itself, which could weaken over time and expose the contents to pathogens.
To demonstrate that packaging will sufficiently maintain the sterility of the medical devices inside, manufacturers must demonstrate the resiliency of the sterile barrier. The sterile barrier prevents the entry of pathogens into the package.
The process of accelerated aging is instrumental in achieving this in a timely manner. This is primarily possible because of knowledge that the rate of reaction doubles for every 10°C increase in temperature. With this activation energy, which is the minimum amount of energy required by the objects for a chemical reaction to occur, every 10°C increase in temperature doubles the rate of molecular collisions occurring in the sample, which causes the material's degradation and accelerates the aging process.
Manufacturers then use this accelerated aging data to extrapolate the shelf life of the samples at room temperature. Because of the number of environmental factors a sterile-packaged medical device is exposed to, they must undergo a range of tests to demonstrate their ability to withstand these factors.
(See Part II of this two-part series.)