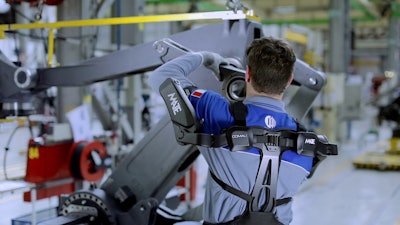 Earlier this year, sister publication Automation World covered the integration of automation technologies with workers in the feature "Are You Ready for Operator 4.0?" As fast as new advances, such as collaborative robots and augmented reality, have appeared on the market, these technologies represent just the tip of the iceberg in terms of what's to come.
Comau's recent announcement of its Mate exoskeleton provides another glimpse into the near-term future of industrial work. First showcased at Automatica in Munich in late June, Comau describes Mate as a lightweight exoskeleton designed to assist shoulder "flexo-extension" movement. Three elements compose the lightweight (3.0 kg) Mate exoskeleton:
• Garment interface—the parts in direct contact with the user's body;
• Torque generator box—which stores and transforms potential mechanical energy to create seven levels of adjustable assistive torque; and
• Mechanical shoulder chain—parts that facilitate the free movement of the user, such as sliding and rotational joints.
According to Comau, the choice of assistance level from the torque generator box is based on the user's body proportions and ergonomic considerations. Calculation of the optimal assistance torque is dependent on the task to be carried out. "The user provides the strength, control and balance while the exoskeleton transfers much of the burden away from the arms to the pelvis," Comau says. "This ensures greater comfort for the worker and increases work quality and efficiency by providing consistent movement assistance during manual and repetitive tasks."
The exoskeleton is available in two sizes: S/M and L/XL, with all parts that come into contact with the human body being adjustable to any body shape.
"Mate has been designed in close collaboration with factory workersin response to their specific needs," says Tobias Daniel, Vice President of Comau's robotics and automation products global sales & marketing. "With our exoskeleton, workers will be able to do the same tasks, but with less fatigue."
Daniel adds that Mate is the first in a series of wearable robotics that Comau is developing and commercializing in partnership with IUVO (a spin-off company of The BioRobotics Institute) and Össur (a developer and manufacturer of non-invasive orthopedic equipment).
Factory worker tasks for which Comau sees initial use of Mate include: assembly, packaging and stock management; filling machines and retrieval of finished products off conveyor lines; gripping or holding items; operating vibrating hand tools; automotive underbody and finishing phase work; as well as gluing, drilling or painting.