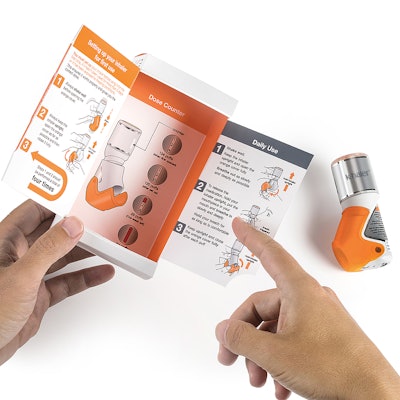 [This story originally ran 5/18/2018.]
Improper inhaler technique can result in patients not receiving the prescribed amount of a medication. Beyond usage training, inhaler design is imperative for patient adherence and drug delivery.
To address this issue, Mundipharma International Ltd. worked with London strategic consultancy Precipice Design to develop the k-haler® aerosol device, whose design to help patients use their inhalers more effectively led to it winning a 2018 iF Design Award for packaging design in the medicine/pharmaceutics category.
k-haler's breath-triggered mechanism is designed to help patients with respiratory conditions better manage their condition. Its patented "kinked" k-valve™ is activated with a low inspiratory force, making it easier for correct patient usage.
Jonathan Marshall, Mundipharma Senior Commercial Lead, says, "We're delighted that thek-halerdevice has been recognized for its innovative packaging, which is testament to the research and development that went into its design. These simple and effective patient education materials are designed with the aim to help patients use their device correctly, and therefore potentially improve their long-term outcomes."
The Mundipharmaglobal network of privately owned independent associated companies was foundedin 1956 by doctors and now operates in more than 120 countries worldwide. It focuses on developing business partnerships to identify and accelerate technology across diverse therapy areas including respiratory, oncology, pain and biosimilars.
In the following Q&A, Healthcare Packaging (HCP) discussed the device and its packaging with Miles Hawley, Chief Design Officer, Precipice Design.
HCP: Was the k-haler device and packaging designed mutually by Mundipharma Intl. Ltd. and Precipice Design?
Hawley: Precipice has been working with Mundipharma marketing and R&D for the last 10 years, helping to design and develop the k-haler proposition. With a program this complex, there are numerous third-party contractors helping to commercialize the inhaler and its peripherals. Precipice [is involved in the] design of the device and the packaging—both structure and graphics. Precipice developed the color strategy for k-haler, and the brand identity. We designed the usage instructions and developed an online training tool for the device. Our research team tested and developed the k-haler designs, working hand in hand with patients and [health care professionals] across key European markets, including the U.K., Germany, France and Italy.
HCP: What components/materials make up the k-haler device and its packaging?
Hawley: At the heart of the complex k-haler assembly is the k-valve. Designed by a UK engineer, it only requires a gentle breath in to activate. Opening the mouthpiece automatically loads a dose, which is held by the k-valve like a kinked garden hose. Inhalation unkinks the k-valve, releasing the medication as a spray. Precipice worked on the development of the external housings, which surround the k-valve, providing a closed system, preventing dust getting inside the device. Precipice specified the sans-serif Tiresias Infofont for the patient-facing dose counter. These numerals were specially designed by the Royal National Institute of Blind People for clear readability. In total, the k-haler inhaler comprises 14 plastic components plus three self-adhesive foil labels.
The color palette for k-haler is easily identifiable and contemporary. A bold colored mouthpiece cover (translucent polypropylene to match Pantone® 1505) in combination with high-quality, satin chrome labeling makes the inhaler feel premium, modern, powerful and scientific. The translucent mouthpiece cover also helps people orient the device and emphasizes a sense of airflow. The clear, uncluttered branding on the main label helps the k-haler feel clean and simple, while the detailed regulatory information can be seen on the rear of the device. The top label can be used to display brand and dose strength information.
The packaging measures 140-mm L x 76-mm W x 40-mm D. It is created from a single carton sheet made of 18-pt SBS (Solid Bleached Sulfate), and a single-sided matte-coated white folding carton board (appx. 300 g/sm), designed to run on an existing manufacturing line. The iF Design award-winning carton provides patients with a "book-like" opening feature. This reveals information in a staged and easy-to-understand way. A large-format opening means access to the contents is improved versus the current metered-dose inhaler carton.
A Concora cut-tear detail provides a smooth, quality opening, more synonymous with luxury goods. The k-haler itself is held in a metallicized secondary flow wrap, which is wrapped by the patient information leaflet, for automatic assembly into the primary carton. A Concora cut is achieved with an offset partial cut on either side of the board so that the area between the offset"de-laminates"upon opening. It provides a neat, clean method of perforating that eliminates the need to fully perforate through the board, avoiding rough edges after opening.
HCP: How does k-haler compare to other inhaler devices?
Hawley: k-haler is designed as an improvement on the metered-dose inhaler devices currently on the market. k-haler utilizes a pressurized canister containing the drug held in suspension, with no need to coordinate pressing the inhaler and breathing in.
The k-haler device and packaging were designed with the whole patient and clinician experience in mind, aimed at helping to address some of the day-to-day challenges faced by patients using an inhaler and improving correct device usage. Collaborating with patients and healthcare professionals, the packaging was developed to encourage users to pause as information about how to use the k-haler device is revealed in a specific and controlled order.
k-haler received a positive outcome from the European Decentralised Procedure (DCP) in October 2017 and its technology is suitable for a range of inhaled products.