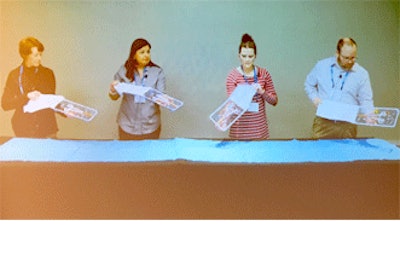 The ever-popular nurses' panel at HealthPack 2018 in Kansas City, MO, offered a look into the challenges (and opportunities!) that nurses encounter when opening packaging for aseptic presentation.
The four panelists, who work in various clinical areas, gave feedback while opening medical packaging supplied by a number of manufacturers. After, they sat down for a lengthy Q&A session to talk to audiences about what packaging features they appreciate and where there's still room for improvement.
It goes without saying that easy-to-open packaging was top of mind for the nurses. This can be subjective depending on the nurse, the field of expertise and other attributes, but the nurses offered their blunt (and often hilarious) takes.
The good
Peel-off labels ("stickers") for implantable devices—intended for charts and patient cards—were popular. One cath lab nurse exclaimed, "Thank you, I'd like to see four!" Another asked for six, as one or two usually tear and her paper-based system needs them for log books, patient charts and more. They preferred them to be placed on the inner package as opposed to the outer foil cover, because in life-or-death situations, the outer foil is automatically thrown to the side.
Additionally, if the manufacturer provides a card for the patient to carry with the device's traceability info, they should ensure it is right-sized for the sticker. One nurse pointed out that the sticker can be bigger than the card, leading them to wrap it around the card, which is clunky for an item that's meant to be carried around 24/7.
Hand grips were also mentioned as a helpful feature, particularly for large packages that are held by one extended arm while the other peels the lid off. One of the packages in the demo had small bumps for easier grip where it was supposed to be held, which helped in maintaining control.
Nurses were unanimous in their request for bold or colored expiration dates. "If you feature the manufacture date and expiration date, please make the expiration date bigger!" exclaimed one nurse.
The challenges
Nurses lamented that some peel-apart packaging does not have adequate room for thumbs to grip, even for those nurses with smaller hands. When opening a particularly long package (held much like a violin), one nurse was ecstatic that the package had extra paper flaps that extended beyond the plastic to make it easier to pull the top off.
Locking features on cartons did not register as appealing. The nurses mentioned using identification badges or scissors to open the other (non-locking) end, as the locking mechanism on a carton can be cumbersome. "It's awful when the surgeon is waiting on you, piercing your soul with their eyes. That's why we use the badge. We just need to get in as fast as possible," said one nurse.
The cartons can become gnarled when they aren't easy to open, and some cartons cut nurses hands, especially in dry winters.
Another common problem was the way that some coiled products are packaged. When a coiled wire is not twist-tied or locked in some way inside of a pouch, the nurses get nervous that item will come uncoiled or explode onto the floor during presentation. If they see the coil changing shape as they peel, they choose to wait for it to be pulled out of the package by a scrub nurse instead of dumping it on the table.
Certain devices have unique challenges. "Breast implants are difficult because they're round. There's nowhere to grip. And… they're usually bigger than my hands," one nurse said coyly.
The mixed bag
The panelists were split on how well certain devices should be confined inside a tray. One nurse noted that if the item doesn't come out easily once it's turned over, but a piece dangles out, she is stuck. The item has to stay inverted because if she turns it right side up, the dangling piece could hit the outside of the package.
Items should be confined enough that they don't shift, but not so tightly contained that they don't come out of the tray easily. Needles rolling off the table is also a concern, so one nurse preferred the additional confinement.
What about single- or double-layer packaging? It depends on the size of the product. If it's small, some said a single-layer is fine, and the nurses feel better about throwing out less material. If the item is large and bulky (one nurse said over a foot in diameter or square), and they need a scrub to help handle it, then double packaging is better.
"It's mixed," explained a cath lab nurse. "There are no standards between stents. I have contaminated a high-dollar product: I was used to double-layer packaging [on that type of product] and then I reached into a single-layer package and realized I was holding a stent in my hand. It's about being attentive [to different products] and knowing not to reach in."
Hand hygiene
"Hand hygiene is a big concern. Accrediting agencies have been visiting the two hospitals I work at," said one nurse who works with children. "On January 1, the Joint Commission will start citing individual providers, the nurse themselves, for hand hygiene violations. It's becoming an increasingly important issue. If you use Purell or other sanitizers under your gloves, it affects your grip. The chevron needs to be longer for us to get a good grip."
Key takeaway
The nurses mentioned that they don't have many visitors from the packaging side, but that they're open to having them come in and observe. "We do appreciate it. We see them every now and then. It's nice to feel like we have someone on our side," said one nurse.
Another added, "Even if it's just one or two people, you can join us and see where we struggle, and where we're successful… as long as you're not squeamish!"