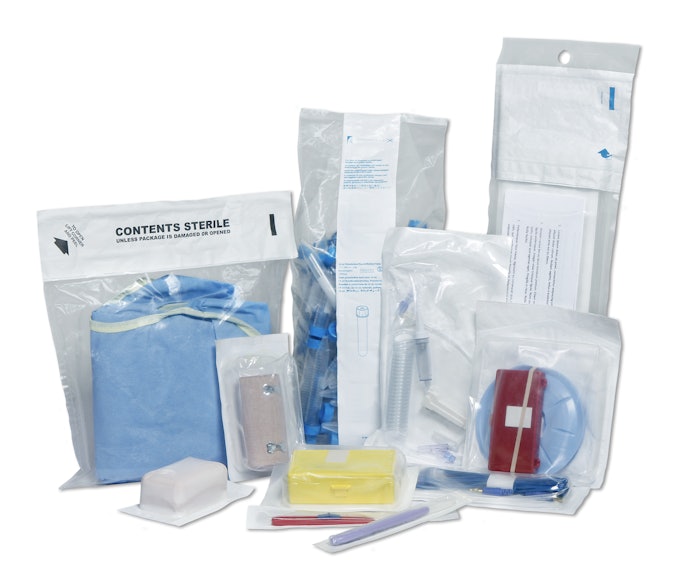 Historically, medical device converters have been driven by two factors, safety and cost. More recently, functionality and sustainability are emerging as topics of importance as well.
Functionality encompasses a broad array of product qualities. Sustainability brings to discussion qualities that will be more eco-friendly and allow medical packaging to fit nicely within the recycling stream as well as waste reduction.
Without making cuts detrimental to the integrity of their packaging, suppliers are offering improvements in safety, functionality, and sustainability, while incorporating new technologies to cut costs. These new technologies are hitting on all four of these market demands in anticipation of rising needs for medical care, and costs associated with new governmental changes.
Safety first
Eighty percent of medical device recalls are attributed to unsterile packaging due to defects and performance flaws. Recalls result in enormous amounts of money wasted for manufacturers. In addition, 80% only represents the number of defects that are caught. Undetected compromised packaging increases the risk of infection. Packaging safety is best categorized as cleanliness, sterility, product protection, and performance.
It has been reported that 3 million people die every year from infections contracted in hospitals while being treated for unrelated ailments. These infections are caused by small microorganisms that may be picked up during any point in the device manufacturing and distribution stream. 
There are growing preferences by Class 2 and 3 medical device manufacturers to reduce particulate counts contained in manufacturing and packaging areas of production. Reducing particulate count lessens possibilities of harmful airborne bacteria and other hazardous agents. 
Medical device packagers are doing their part to control the rate of infection by acquiring cleanroom certifications. Cleanroom certification requires a plant to undergo physical transformations as well as procedural improvements to decrease the accumulation of particles.
New packaging designs are being introduced that improve performance. Hospitals are requesting specialized kits customized for specific procedures. In some cases kits are customized for a specific doctor's preferences. Specialty kits are decreasing the number of mistakes made in operating rooms by ensuring that the necessary tools are accounted for in one package.
As more stipulations are put on packagers and certifications become a requirement, rather than a request, safety of packages and devices contained in them will constantly improve.
New sterilization techniques are on the horizon, once again changing the way packaging needs to perform.
Cost factor remains at the forefront
Cost is driving innovations in medical packaging. Increasing cost of health care along with constant pressure to make medical care more affordable cause manufacturers to look to their suppliers for assistance with cutting costs. 
On January 1st, 2013, the excise tax related to the Affordable Healthcare Act was implemented. At that time a 2.3% tax was tacked on to all medical manufacturers per unit cost. This cost is a significant increase to be passed on to consumers if manufacturers are unable to find areas where cost savings can be obtained.
Medical device manufacturers (MDMs) are seeking suppliers that offer broad product portfolios. The ability to purchase complete packaging solutions from one supplier creates cost savings associated with logistics. Another benefit of having a fully integrated supplier is quality control.
Offshoring offers a significant decrease in labor costs. MDMs are expanding their productions overseas in locations like Asia, the Middle East, Africa and Mexico. China was the premier location for cost-saving alternatives; however, rising labor wages there are driving MDMs to consider "near shoring."
Low-cost, high-skilled labor can be found in Mexico and other Central American and Caribbean countries, making them attractive to manufacturers. As medical device manufacturers are constructing plants in other countries, packagers are also following suit in order to supply their customers in close proximity.
Increasing energy prices apply upward pricing pressure on the material component of packaging. Best ways to offset costs include downgauging film and eliminating steps in the converting process. In order to maintain packaging strength and functionality suppliers are developing solutions that run the gamut from changing structures to lighter-weight PE and PET to more recently eliminating coatings.
Medical device packaging converters will continue to look for more ways to aid their customers and provide cost savings.
The importance of performance
Functionality and performance are critical within the medical device market. A small defect can result in a life-threatening event. Medical device packaging must be compatible to sterilization, act as a barrier against harmful external contaminants, be easy to open, and allow for aseptic delivery.
Medical devices are often times used in emergency situations. Technicians have little time to carefully disseminate the proper handling of each package. MDMs are asking their suppliers to make packages that are easily identifiable with openings that are intuitive.
With a quick glance, technicians should be able to recognize the device and decipher where and how it opens. Labeled tabs and seals with large identifying markers are a few ways this is being accomplished.
Innovations in seal technology are eliminating coatings used with Tyvek® and other paper material allowing converters to provide products with improved breathability. New film technology also lends itself to fiber-free peels.
Aseptic presentation is important when creating medical device packaging designs. Packaging must function in a way to prevent the medical device from being exposed to unprotected surface areas.
Medical packaging and the environment
Hospitals are large producers of waste. Demand for improved sustainability in the MDM market is being felt most by packaging converters.
Sustainability is controlled by choosing film options that are easy to recycle. Converters can create resin mixes that are easily separated for placement in the recycle stream. PE and PET have great qualities including clarity of material, toughness, and ease of process for converters. The hospital environment leans itself to allowing for a smooth recycling stream transition for these types of packages.   
PET and PE can be recycled and returned to the market at a very clean and high grade due to the already sterile environment of hospitals.
This is an exciting time for medical device packagers. Even with urgent cost-saving demand, there are solutions emerging that fulfill them while providing benefits in performance, quality, and sustainability.
--Article supplied by Printpack Medical, which entered the medical device packaging market through the acquisition of Amcor's Marshall, NC, facility in 2010.
Companies in this article