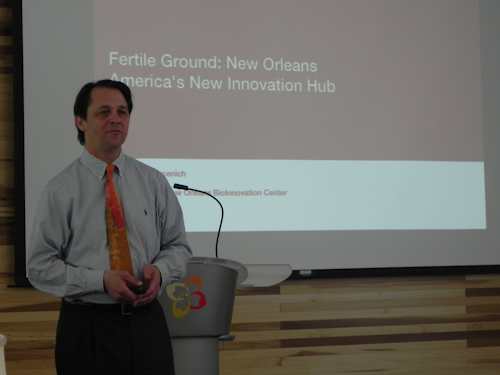 When you think of popular cities for biomedical research, Boston and San Francisco typically come to mind. But, there is a new city to add to that list – New Orleans.
And, the New Orleans Bioinnovation Center is at the forefront of the surge.
The 66,000-square-foot facility sits in the city's BioDistrict, and is steps away from major schools like Tulane University and Louisiana State University, as well as the Louisiana Cancer Research Center and University Medical Center, a $1.2 billion teaching hospital that opened in August 2015, and serves all the medical schools in the area.
A group of HealthPack attendees had the opportunity to tour, and learn more about, the facility directly from the center's President, Aaron Miscenich.
Miscenich explained that after Hurricane Katrina there were hundreds of independent strategic plans performed in an attempt to see what economic development area to focus on when rebuilding the city. While all of them came up with different results, the biomedical industry was on all their lists.
"We have brilliant researchers who know no thing about the business world," said Miscenich.
That's where the New Orleans Bioinnovation Center comes in.
The center works to take the research out of the labs and helps startups, along with researchers and scientists bring their ideas to reality. They help with everything from business plans and shareholder agreements to navigating intellectual property laws and fundraising.
This centers around a lot of programs from partners like Johnson & Johnson., community law firms and a lot of lunch and learn type events. One of their most popular programs was Innovation Louisiana 2015, a two-day seminar that featured 26 speakers from 11 states.
Some of the startups at the incubator include digital health, consumer health products, diagnostic, therapeutic and medical device companies.
So just how productive is the center?
According to Miscenich, over 100 companies have been formed, and more than 400 jobs have been created with an average salary of $62,000.
This, he explained, is good news for the city.
But, the center does not come without challenges.
They are the only commercial lab in New Orleans. And, they are competing for funding with other entities.
When it comes to packing, the incubator is at a slight loss.
"We don't have any expertise on the packaging side," Miscenich admitted to the group.
It was only a matter of second before those who were touring the facility as part of HealthPack raised their hands to ask questions, and offer ideas on how to broaden that horizon.