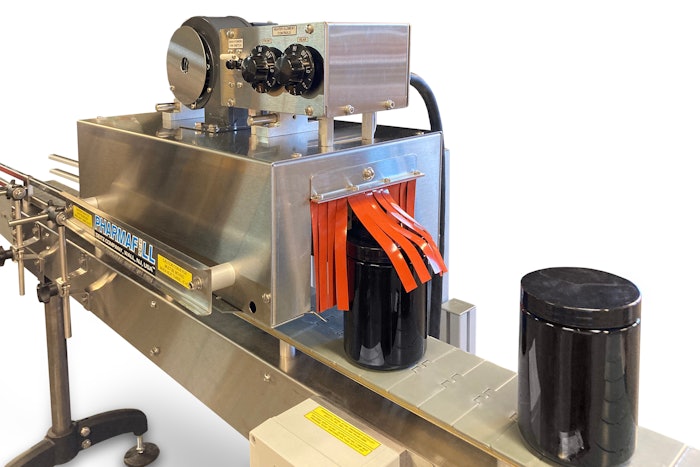 Packaging machinery manufacturer Deitz Company, has released its extra wide heat shrink tunnel that is designed to automatically shrink tamper-evident bands and full sleeve labels onto extra wide bottles, jars, and other containers.
Developed for nutrition companies packaging whey protein, dietary fiber, meal replacement shakes, and other sports nutrition and weight loss products sold in large or wide mouth bottles, the Pharmafill HT6W is made to accommodate plastic, glass, and metal containers as wide as 6-3/4 inches in diameter and as tall as 10 inches in height, an increase of more than 40 percent versus the industry standard Pharmafill HT6B.
To consistently seal the extra-wide neck bands and sleeve labels that often confound ordinary heat tunnels, the Pharmafill heat tunnel features a proprietary engineering advance. Two, 3000-watt tubular heating elements direct a combination of convection and radiant heat toward the bottom of the shrink band or label upon entry, then gradually direct the heat toward the top as the bottle advances to the exit. An energy-efficient, double-wall design with stainless steel construction and heat-resistant curtains at entry and exit help contain the high heat inside the tunnel and provide extra protection for worker safety.
The Pharmafill heat shrink tunnel comes mounted on casters to roll up to any conveyor and includes an adjustable-height lift stand that raises and lowers the tunnel height to match the container height. A companion conveyor and Emergency Auto-Lift (EAL) are offered as options.
PACK EXPO Connects – November 9-13. Now more than ever, packaging and processing professionals need solutions for a rapidly changing world, and the power of the PACK EXPO brand delivers the decision makers you need to reach. Attendee registration is open now.
Companies in this article