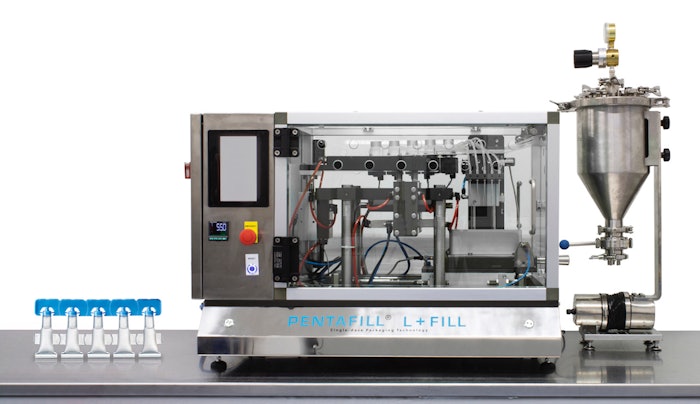 Tekni-Plex is debuting a new bench-top vial filling and sealing machine suited for lab research and small quantity start-up production.
The Pentafill L + Fill, the machine now adds filling capability to the Pentafill L unit which only seals the vials. The new machine accommodates five-unit strips of 0.33-, 0.6-, 1-, 3-, 5- and 10-ml plastic (PE, LDPE, LLDPE, HDPE, PP and EVOH barrier) vials.
To execute a fill/seal, an operator loads the five-unit strips into a holder, which is then manually inserted into the machine. The vials are filled and sealed automatically, followed by manual removal of the holder. 
Traditionally pharmaceutical companies and labs manually filled small-scale production vials before inserting them into the machine for sealing. This resulted in fills that were frequently imprecise and therefore not ideal for lab research or therapeutic use. To help eliminate that issue, Tekni-Plex was asked by customers to create a unit that would provide precision fills.
The Pentafill L + Fill is designed to allow the user to mimic the results of a full-scale production machine via a compact, bench-top unit. The machine includes a heating head, cold-molding pliers and a sealer. It features interchangeable holders for different vial capacities and simple external controls to execute the fill/seal. The Pentafill L + Fill is available in the U.S. from Tekni-Plex's LF of America business, and in Europe from its Lameplast operations.
"The demand for this type of capability continues to increase as pharmaceutical manufacturers look for alternatives to expensive, hard-to-source glass vials. Additionally, new unit dose applications continue to be developed making the Pentafill L + Fill an ideal unit for lab studies and small-scale production," said Green.
Companies in this article