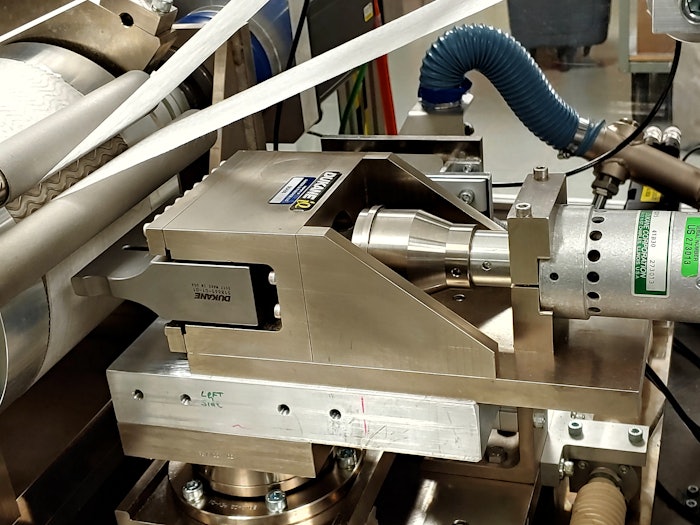 Aurizon Ultrasonics is a supplier of high power rotary ultrasonic systems to the machine builders and end users in the packaging, hygiene and specialty converting industries.
Many nonwoven product manufacturers use adhesives for steps such as bonding, elastic entrapment and feature attachment, but elasticized fabric can be produced using Aurizon's ultrasonic technology.
Within the hygiene industry, Aurizon's technology is used for adult and baby diapers/pants, surgical wrap, and medical face mask products for bonding, attachment, embossing and lamination of thermoplastic materials. The company has created products for feature attachment, core bonding, acquisition layers and backsheets.
In the past, Aurizon Ultrasonics exclusively provided rotary sonotrodes with their technology.
However, they are expanding their offerings by including the option of fixed blade horn technology over rotary anvils for material lamination and edge sealing.This is notable for OEMs that need both rotary and fixed technologies on one machine.
The company reports that this technology reduces equipment cost by leveraging the increased width of a blade versus rotary. For example, a 150 mm-wide blade horn can be used in place of two 75 mm-wide rotary horns. While this configuration is not a direct replacement for all rotary horn applications,there are less demanding applications where it is an effective technology.
This patented technology provides a solid foundation for delivering increased productivity, reduced costs, and a more sustainable process. Additionally, ultrasonic technology has aesthetic benefits, producing fabric that is odorless, softer and more breathable and offers the potential for using lighter materials and reduced elastic decitex. Elasticized fabric created by ultrasonic methods has more drape, bend and crush conformability than products using adhesive.

Recently the company introduced other new bonding technologies:
Elastic entrapment
Aurizon has also recently completed optimization of its elastic entrapment technology for producers and converters of elasticized fabrics. This technology directly entraps tensioned elastic within a thermoplastic substrate, eliminating the direct and indirect cost of adhesives.
Aurizon's ultrasonic entrapment technology provides lower tension at elongation verses any other means of attachment, resulting in a more comfortable experience for the user.The company is supplying equipment manufacturers and end users in Asia, Europe and North America.
The elimination of adhesives in hygiene products offers savings on product costs (through adhesive elimination), increased production line efficiency and improved product comfort and performance.
RS series bonder
Aurizon also introduces the RS series bonder, intended for machinery manufacturers and experienced end users who desire to develop their own actuation and tooling solutions.
The RS series is a rotary ultrasonic assembly mounted in a bearing housing that can be mounted in any orientation. It is available in 20, 30, and 40 kHz with bond widths of up to three inches.