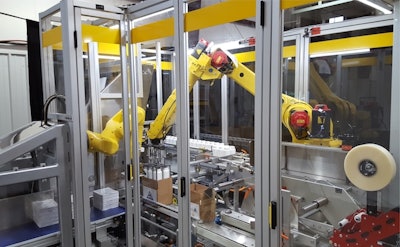 ESS Technologies will debut Predictive Maintenance (PM) Technology installed on its Model V30 Robotic Case Packer. The technology, a combination of sensors and software, monitors the "intelligent" machine's overall performance, tracks routine maintenance, and alerts operators about impending issues, such as excessive heat, excessive vibration or other parameters outside of optimum performance, before the machine experiences a failure and causes a line to go down.
The Model V30 Robotic Case Packer incorporates a FANUC M-20iA robot with ESS-designed end-of-arm tool (EOAT) and a servo collation system at the infeed that creates the required pack pattern. Robotic EOAT can be designed to handle a range of products, such as bottles with topserts, jugs, cartons, bundles, tubes and pouches.
Model V30 will erect, load and seal with tape or glue up to 12 cases/min. Model V30HS handles up to 22 cases/min. Options for inserting medguides, case labeling, and integrated serialization systems create a high-performance, automatic case packing system.
An authorized system integrator for FANUC America, ESS has also incorporated FANUC's new Zero Down Time (ZDT) software to monitor the robot's operational health in much the same way the ESS PM Technology monitors the machine's health. ZDT continuously collects and analyzes data to track each robot's overall health and maintenance requirements while running production. ZDT notifies the operator if action is required to prevent unexpected downtime, leaving maintenance personnel free to focus on other responsibilities.
ZDT analyzes robot data to identify required maintenance tasks based on actual robot usage, information that allows the manufacturer to optimize overall maintenance costs and schedule the most critical tasks during planned maintenance windows. A dedicated ZDT Web Portal allows the user to access information about ZDT-protected robots from anywhere in the world.
ESS will have a fully operational V30 with PM Technology in Booth W-828 at the Healthcare Packaging EXPO, co-located with PACK EXPO International, October 14-17, 2018, at McCormick Place, Chicago, IL. Use Comp Code 34N82 to receive free admission to Healthcare Packaging EXPO and PACK EXPO exhibit halls.

Companies in this article