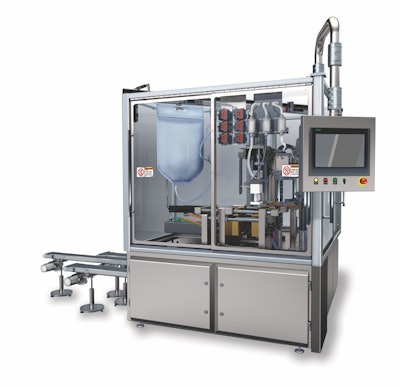 Weiler Engineering, Inc. introduces to the pharmaceutical industry its next generation ASEP-TECH Blow/Fill/Seal (B/F/S) machine. This compact laboratory-sized machine, which measures approximately 100-in. H x 70-in. W x 80-in. D, answers recent demand for low-output production of pharmaceutical products and/or small development batches using advanced aseptic technology.
At the forefront of this design was the need for a B/F/S machine taking into consideration applications such as biologics, 503B drug shortages, stability, clinical trials and high-value batch capabilities, all at the forefront of this next generation of B/F/S machine design.
The modularity of this platform allows Weiler to offer a variety of options, including the following:
• Single Use Technology (SUT) or conventional Clean in Place (CIP) and Steam in Place (SIP) technologies
• A new patent-pending Grade A filling zone
• A new patent-pending Particulate Matter Removal (PMR) system for when the hot knife is in use
• 21 CFR Part 11-compliant audit trail
• Fully integrated SCADA capabilities
• Automated onboard deflashing
• Insertion of rubber stopper or tip/cap inserts, as well as many of the other featured items Weiler offers on all full-scale production machines
Weiler's specific focus for the design engineering is the ease of changeover and product range flexibility, keeping the quality and safety attributes which B/F/S technology is known for and Weiler Engineering B/F/S machine designs.
Weiler Engineering, Inc. is a provider of aseptic custom packaging equipment for pharmaceutical and healthcare applications. We manufacture Blow/Fill/Seal packaging machines that produce shatterproof, durable, aseptically packaged products in one uninterrupted operation. The B/F/S process will take raw materials to sterile finished product in a matter of seconds.
Companies in this article