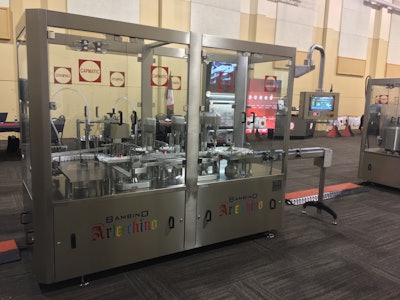 Capmatic®, provider of liquid, tablet and powder packaging systems for over 50 years, hosted a private machinery expo at the Davis Conference Center in Salt Lake City, UT, in October.
Following a successful PACK EXPO Las Vegas, the event was held from October 3 to 5, 2017, and was attended by healthcare manufacturers and CMOs from across North America. Attendees from a variety of industries—pharmaceuticals, nutraceuticals, cosmetics and more—gathered at the expo to view several of Capmatic's systems in action, including:
Countlab Street Fighter, an electronic tablet and capsule counter designed to handle tablets, caplets, hard caps, softgels and more in a wide range of container sizes and shapes. The Street Fighter 100 and 200 have a throughput of 1 million and 2 million tablets/hr, respectively. Height adjustment is automatic, so nozzles do not need to be changed to accommodate different bottle sizes. The manifold features a smooth finish, and an extra vacuum station at the nozzle helps to prevent dust and powder flow upward.
Patriot, a single-indexing multi-station platform that fills up to 1000 mL with a low profile that can be configured to handle several types of applications. The multi-station monoblock can be equipped with a variety of filling and dosing systems, a choice of plugging and/or capping station, torquing and/or crimping system, as well as labeling system. With four nozzles, two can fill product while the other two are being cleaned for the next product, resulting in efficient changeover.
Accurofill, an automatic volumetric piston filler capable of filling liquids, semi-viscous and viscous products, including creams, syrups, oils and more.
Bambino Arlecchino, a filling machine designed specifically for nail polish that operates at up to 40 bottles/min, with a servo-driven diving nozzle. The system is capable of inserting steel mixing balls, brushes and applying screw caps, and caps are protected from scratches by a Teflon coating.
Companies in this article