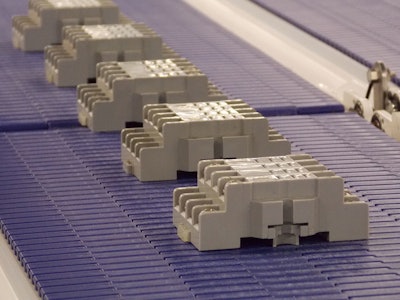 ABCO Automation, Inc.'s Stingray is a robust, low-profile modular belt conveyor that employs micropitch plastic belts. This heavy-duty stainless-steel conveyor provides reliable product transfer, smooth transitions, and product accumulation, making it ideal for delicate, small footprint, or unstable products that may be damaged by a conventional conveyor.
Stingray is modular and scalable with sections available up to 20 ft and belt widths include 4-, 8-, 12-, and 24 in., allowing easy integration into virtually any floor space.
Conveyor sections easily accommodate 90° transitions for smooth, precise movement from one conveyor to another. Stingray includes these distinct features:
Conveyor frame and spanners constructed of 11-gauge stainless steel and optional powder coating for increased durability
Hardened steel nose ends for better wear and adjustability
Additional bearings to provide greater load capacity
Nose roller transfers as tight as .90″ provides for smooth transitions from one belt to another
Customizable position sensors
Stingray conveyors are pre-engineered, built to order, and available on a quick-ship basis from ABCO's Build-to-Print group.
Companies in this article