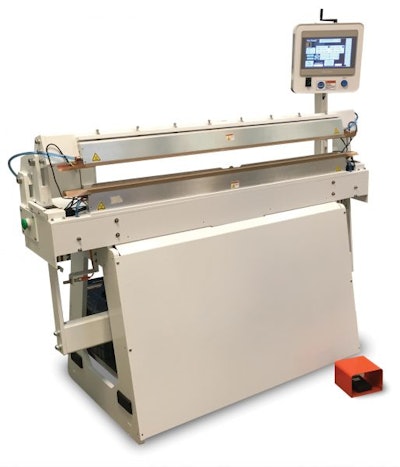 PAC Machinery introduces of their MedLogic control system for validatable medical sealers. The first example of the new control system is featured in the PS Med sealer that debuted at the MD&M West medical technology symposium Feb. 09, 2017.
The MedLogic control system features a PLC with a 7-in. touchscreen HMI; a 10-in. version is available as an option. The interface is intuitive, easy to navigate and simple to use. MedLogic provides real-time monitoring of all critical sealing process parameters with an alarm to prevent operation in the event the machine drifts outside preset tolerances.
The source of any fault condition is identified visually on the controller and logged in storage for the purpose of documentation (using a USB drive for storage). The MedLogic control system offers 3 Level login access (Operator / Supervisor / Engineer) with programmable name and password protection and a verification/calibration menu to streamline the IQ/OQ/PQ process.
PacMed medical pouch sealers with MedLogic are capable of making hermetic seals with temperatures ranging from 200°F to 650°F. The PS Med Impulse Sealer with MedLogic, for example, is designed to comply with the guidelines of ISO 11607 standards. External verification ports allow for verification and calibration of internal controllers.
Companies in this article