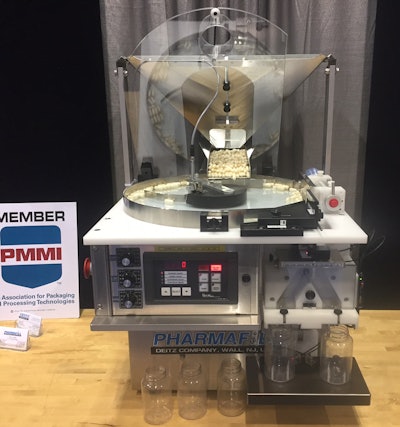 The new Pharmafill™ TC4 Tabletop tablet counter from packaging machinery manufacturer Deitz Co. automatically counts pills, tablets, capsules, softgels, caplets, lozenges and other solid oral dose products and fills them into bottles.
Applying the company's proprietary counting sensor technology from its larger, fully automated Pharmafill TC3 tablet counter, the tabletop TC4 electronic pill counter counts translucent, transparent and opaque solid oral dose products at up to 2,000/min with 99.95% accuracy.
Designed to bring the speed and accuracy of computer-controlled tablet counting and bottle filling to growing nutraceutical, cosmeceutical and contract packaging companies, the Tabletop TC4 combines computer-controlled operation, easy setup, and fast changeovers with no change parts in a compact, low-profile design measuring only 34 in. across x 21 in. deep x 30 in. high.
The TC4 entry-level counter is available with a variety of options that may be added at any time to expand capabilities as counting and filling requirements grow. These options include an airguide system that automatically separates and aligns the pills on a single layer; a vibratory hopper feeder that automatically regulates the flow of tablets into the counter; and an optional smart bottle sensing system that automatically stops operation in the event of a problem with the bottle. The new TC4 is manufactured in the company's Wall, New Jersey, headquarters and includes a full warranty.
Companies in this article