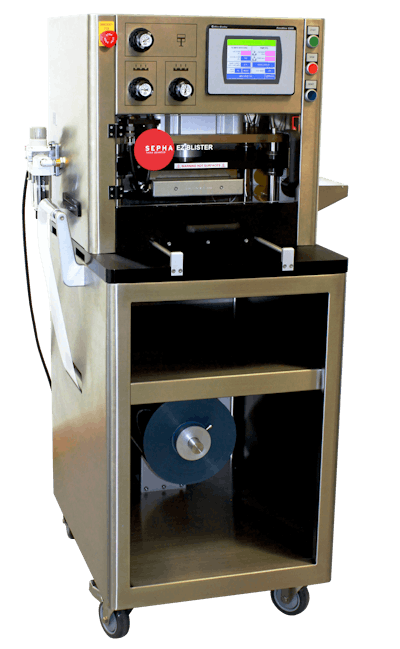 Sepha has released a functional upgrade for one of its original products, EZ Blister, the lab scale packaging machine. The new material auto feed function increases the overall rate of production while reducing operator input.
EZ Blister offers smaller pharmaceutical and packaging facilities, such as laboratories and clinical trial operations, the flexibility to manage their own blister packaging operations at a lower cost and without interrupting full scale production of commercial product. It incorporates the technology used in large-scale packaging lines to form, seal and cut high quality blister packs in smaller volumes.
Having continually evolved since its original concept, EZ Blister has always enabled the user to create a range of blister pack formats from a variety of materials by thermoforming or cold forming depending on individual requirements. The current model is a tabletop machine with a range of optional features to allow the customer to tailor the machine to best suit their operations. For example, incorporating a workstation, coding digits or a modified atmosphere function are all optional extras that enable users to customize the device to suit their packaging requirements and budget constraints.
The addition of an optional material auto feed function allows optimum operating speed and superior finish on sealed packs. This add-on incorporates a work station with reel holder and a roller-based tensioning system that holds the material in place and feeds pre-determined amounts through the machine for forming or sealing.
EZ Blister Auto increases the rate of production to approximately 300 to 500 cycles/hr for any single operation. Originally developed as a special one-off project for a customer, the additional function will now be offered as an optional extra on all new EZ Blister machines. The company says existing users of some EZ Blister models could have their current EZ Blister upgraded to include this function, and models that include a HMI touchscreen should be eligible.
Companies in this article