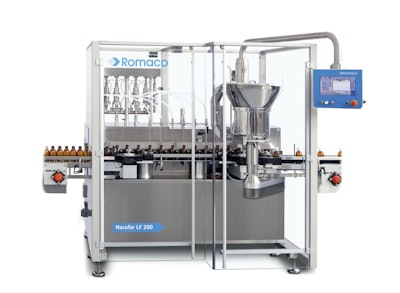 Romaco will extend its Macofar LF 200 product family with two more models for filling liquids into glass and plastic bottles at high speeds inn time for Pharmintech 2013. The new Macofar LF 200 FD and LF 200 FS series were specially developed for bottling pharmaceutical liquids. The LF 200 family, meanwhile, comprises five different models for filling a variety of applications of almost any viscosity gently and efficiently.
The new Macofar LF 200 FD is used for high-speed filling of pharmaceutical sprays, nose, and ear drops, as well as ophthalmics and syrups. The machine boasts a maximum output of 12,000 bottles/hr, with a filling volume of up to 100 millilitres.
The LF 200 FD is equipped with two closing stations and is capable of handling a wide range of closure types including pipettes, droppers, dosing cups, spray pumps, plugs, plungers, and screw caps. The dual-closure system is flexible and facilitates many different combinations. The bottles are filled continuously, speeding up the filling process. The movement of the swiveling dosing systems is synchronized with the bottle transport through the machine.
The LF 200 FD is suitable for glass and plastic containers 16 to 80 millimetres in diameter and 35 to 200 millimetres H, with a filling volume of 0.5 to 500 millilitres. The transport system that transfers the packaging can be adjusted to different container dimensions quickly and easily.
Macofar LF 200 FS
The Macofar LF 200 FS machines were specially designed for applications with a single-closure system such as pump, pilfer-proof, child-proof, screw, or press-on caps. The Macofar LF 200 FS likewise fills the containers in a continuous process at a maximum rate of 12,000 bottles/hr. It is particularly suited for processing pharmaceutical liquids that are orally administered or applied to mucous membranes. Servo-controlled processes ensure safe and reliable handling throughout the filling and closing operations.
Macofar LF 200 FC
The Macofar LF 200 FC was specifically developed for filling pharmaceutical syrups of almost any viscosity. The maximum filling speed is 4,500 bottles/hr with a filling volume of up to 250 millilitres. The intermittent filling process is recommended, amongst other things, for cough and fever medicines or nutraceuticals. The machine is suitable for filling glass and plastic bottles with a maximum volume of 500 millilitres. The containers are sealed with pilfer-proof or screw caps. With its compact design and length of just 2,200 millimetres, the Macofar LF 200 FC has a small footprint and is economical in use. It requires only minimal maintenance and is readily accessible, allowing convenient operation as well as quick format or product changes.
Macofar LF 200 ST
The Macofar LF 200 ST achieves a maximum output of 12,000 vials/hr with a filling volume of up to five millilitres. The LF 200 ST complies with the rigorous cGMP requirements for processing parenteral pharmaceutical liquids, which are administered to the patient in the form of injections or infusions. The filling process is servo-controlled and involves an intermittent vertical motion that prevents turbulent air movements in the vicinity of the open vials. Thanks to its balcony structure and the strict separation between cleanroom and technical areas, the Macofar LF 200 ST combines maximum product safety with premium quality. The glass or plastic vials are sealed with a rubber stopper after filling. Besides the use of standard liquid stoppers, the closing system is also suitable for subsequent freeze drying.
Macofar LF 200 SA
The Macofar LF 200 SA is a standalone unit for processing non-sterile liquids such as cosmetics, healthcare products, or nutraceuticals. Depending on the product type, it can be supplied with various dosing and volumetric pump systems manufactured in stainless steel or ceramic coated. The continuous filling principle permits a maximum output of 12,000 bottles/hr, classing it as a high-speed model. Offers ergonomic design and user-friendly operating.
Companies in this article