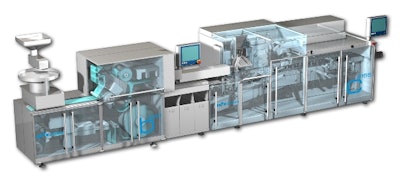 Designed to maximize efficiency and versatility, the BEC 500 is easy to operate, allows fast format changeovers, and can process up to 500 blisters and 500 cartons/min, making it suitable for packaging medium-sized batches of standard solid-dose products using conventional forming materials.

Operating costs are kept to a minimum-and process reliability to a premium-via the BEC 500's double-lane setup. Direct blister transfer ensures smooth end-to-end handling, and the integrated batch management system means that product-specific format data need only be entered once to be made available at all control units. Inspection and marking systems-including Uhlmann's Track & Trace, which offers 100% inline monitoring for comprehensive pharmaceutical reliability-are easily integrated into the line.

The new machine is available in rotary or platen sealing, is capable of producing complex shapes, rigid aluminum pockets, calendar packs, and other non-traditional packages. Between runs, the machine features a newly simplified format changeover process that allows a single person to completely reset the entire line in just 30 min, without the use of tools. The process is made easier by a new SmartControl operating system, which offers step-by-step guidance through the entire format changeover.

The closing station in the BEC 500's cartoner module is suitable for all standard carton-closing systems, including tuck-in and hot melt, and the modular design of the packaging line allows for customized configurations, including an additional feeder for inserts, a checkweigher, and an end-of-line packaging machine.

The machine's open design makes it simple to supervise, and unhindered operating-side access to various stations permits material charging and servicing. The machine's smooth surfaces are free of sharp corners and edges to afford quick, easy cleaning.
Companies in this article