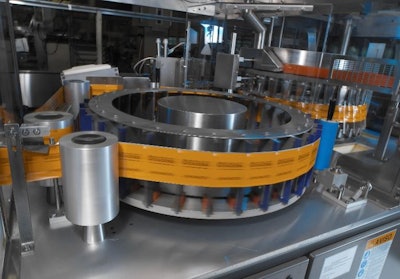 This content was written and submitted by the supplier. It has only been modified to comply with this publication's space and style.
R.A Jones, a Coesia Company, has developed new material handling technology to allow them to run a variety of different recyclable-ready flexible films on its high-speed Pouch King f/f/s pouching system, which will help brand manufacturers transition to more environmentally friendly packaging materials. The needed hardware and software upgrades will be available starting in Q2 of 2023 for any new R.A Jones' Pouch King PCU-2000 and can be retrofitted on any Pouch King already in service, depending on the vintage of the machine.
With sustainable packaging emerging as a top priority for consumers – and rising pressure from global governing bodies like the European Union, mandating that all plastic packaging is reusable or recyclable by 2030 – R.A Jones is making it easier for consumer packaged goods (CPGs) companies to prepare and meet these green initiatives with innovative equipment solutions.
To achieve 100% recyclability, new film structures are being developed to ensure these green solutions can fulfill the same necessary requirements as the legacy packaging materials. Many of the traditional flexible packaging film structures consist of multiple layers and dissimilar materials, which provide barrier qualities and enhance machinability. Yet these same multi-layered films have low recyclability capabilities due to the combination of materials, which can result in packaging eventually ending up in landfills. R.A Jones is in the process of evaluating different materials that can be used to package a variety of products, including soup bases, spices, instant breakfast foods, drink mixes, nutraceuticals, and snacks.
However, these new flexible packaging films are not always easy to run on f/f/s systems, especially high-speed machines similar to what R.A Jones provides with its Pouch King line. One of the biggest challenges with the new materials is a decreased heat tolerance. In order to produce a seal, applying heat and pressure to the film is required, which can cause the new eco-friendlier packaging alternatives to stretch, shrink, or distort when exposed to heat in an uncontrolled manor. These complications can lead to material waste and costly equipment downtime. In response, R.A Jones has invested substantially in developing new sealing technology, which manages the sealing process to avoid damaging the sustainable packaging films.
"Consumer Packaged Goods suppliers are faced with meeting increasing demand for sustainable packaging while ensuring they can operate machinery at the same performance level," said Robert Kalany, Senior Manager of Research and Development at R.A Jones. "Our current Pouch King line is one of the fastest form, fill and seal pouch machines in the world with speeds of 2,000 pouches per minute. Now with this new sealing technology, customers will be able to run sustainable flexible materials on their Pouch King machinery while still meeting their output goals."
Companies in this article