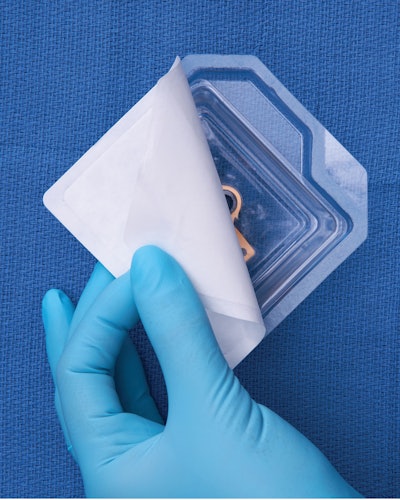 This content was written and submitted by the supplier. It has only been modified to comply with this publication's space and style.
TekniPlex Healthcare, which utilizes advanced materials science expertise to help deliver better patient outcomes, is installing a new state-of-the-art air knife coater. The new infrastructure not only will extend the quality of TekniPlex Healthcare's precision coated barrier products, but also add substantial capacity that is urgently needed in the industry. In particular, the air knife coater will allow TekniPlex Healthcare to significantly increase its supply of coated Tyvek®, heat-seal coated reinforced paper, cold-seal coated paper, and film for various medical device, pharmaceutical, and diagnostic applications.
Scheduled to complete validation in the fourth quarter of next year, the machinery addition comes at a crucial confluence of global supply chain challenges, increased demand, and heightened requirements for higher performance barrier solutions. The investment allows TekniPlex Healthcare to stay ahead of the supply and demand curve while further improving product performance.
"Our engineered barrier solutions, including our coated Tyvek and coated paper products, have experienced substantial growth in recent years," says Chris Qualters, CEO of TekniPlex Healthcare. "The state-of-the-art air knife machine will ensure we can meet escalating product demands in the North American market, while also allowing us to further expand in other geographies like China, Southeast Asia, Latin America, and Europe."
TekniPlex Healthcare's proprietary coating formulations and application technology result in products designed to meet demanding performance and sterilization requirements. The division's coated Tyvek® combines robust sterile barrier with optimal breathability, while offering a clean peel and compatibility with a wide variety of flexible and rigid film materials.
TekniPlex Healthcare's high-performance coated paper is a high-volume solution for a broad array of breathable and non-breathable medical products, including drapes and gowns, gloves, procedural kits, tubing, and syringes. The coated papers offer both clean peel and compatibility with multiple paper grades.
Companies in this article