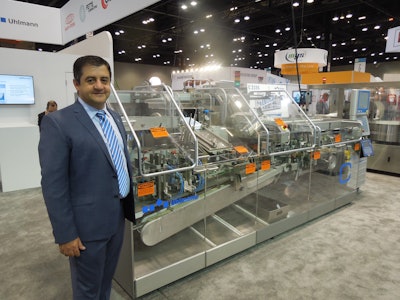 "Growth Pharma" is the name of a new industry model from Allergan plc, the Dublin, Ireland-based firm that develops, manufactures and commercializes pharmaceuticals, devices and biologics. Its products address the central nervous system, eye care, medical aesthetics and dermatology, gastroenterology, women's health, urology and anti-infective therapeutic categories.
At its Cincinnati facility, Allergan packages oral solid dose products for the U.S. market, reportedly the company's sole North American plant to do so. The facility uses two IBC 120 bottle lines prepared and modified by Uhlmann USA (www.uhlmann-usa.com).
In an article in Uhlmann's Issue 2/2016 customer magazine, "close-up," Roy Scicluna, Allergan's Supervisor, Process Engineering, says the company packages 13 products in 55 different dosages on the two Uhlmann lines.
He explains, "The project was certainly a big challenge for both sides. The target was to realize minimum downtime and changeover times. The available space meant that the new line could not be installed parallel to the existing one. The second IBC 120 was taken out of store and transported to [Uhlmann's facility in] Towaco. In addition to the new format parts, various upgrades were carried out so the machine meets all current standards. Ninety percent of the validation could also be completed in Towaco."
In the article, Scicluna says, "The key to the success of the project was undoubtedly the good, joint preparation. Many things were discussed and clarified in advance, and the Uhlmann USA project management was also first rate. The guys understood what was needed and were fully committed to mastering the challenge. We now have a state-of-the-art packaging process with the two IBC 120 bottle lines."
Companies in this article