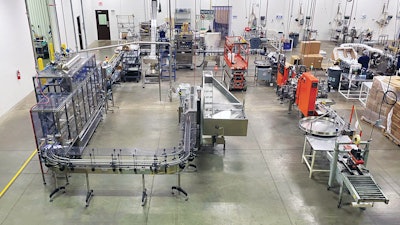 The global hand sanitizer market is expected to reach $3.47 billion by 2028, up from $2.98 billion in 2020. Kutol Products, a maker of hand soaps, hair and body washes, industrial hand cleaners, and foam and gel hand sanitizers, plans to be a major player as this growth unfolds.
The Cincinnati-based company was founded in 1912, and it now produces under its own Health Guard® and Kutol® Pro brands as well as for private label brands. It's no stranger to pandemics either, having operated through the 2009 swine flu pandemic. With the arrival of COVID-19, says Vice President of Operations John Rhodenbaugh, "Our business exploded, just as it did during swine flu. With the previous experience gained by the entire Kutol team, we were able to apply lessons learned and make some good decisions this time around. We knew we had an idea of what was coming so we could plan, but we didn't expect the demand to last so long."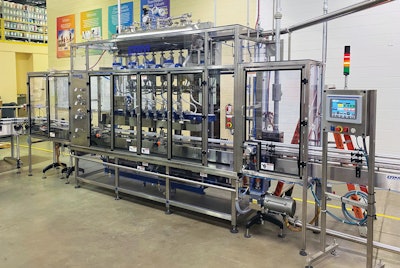 One key decision was to dedicate all of Kutol's filling lines to handling only hand sanitizer for a while. All of the tanks and fill lines were converted to produce sanitizer throughout the pandemic. Such products are typically manufactured in an explosion-proof room, but when production expanded to the entire facility, safeguards were put in place to keep safety as a top priority. The second decision was to install a fifth filling line.
"We always planned on adding a fifth line, but COVID expedited our decision-making as it became very clear what product we would be filling with that new line," says Rhodenbaugh. "During swine flu, we grew as well and we sustained that business long term. We expected the same to happen this time with COVID. We realized if we wanted to sustain three to five times our usual volume into the future, whether that be two or 10 years from now, we would need another line."
All four of the filling lines already operating at Kutol were anchored by machines made and installed by DTM Packaging , one of the Massman Companies. The newest of the four became operational in late 2018. "That line helped us out significantly through the pandemic," explains Rhodenbaugh. "We made the decision to turn to DTM again for a high-speed fill line that would fill smaller sizes than our previous line and accommodate not just the hand sanitizer, but any of the products we produce."
'FillZilla'
Kutol ultimately purchased a DTM fully integrated bottling line with a DTM Packaging Purefil 2500 In-Line Walking Beam Flow Meter Filler, affectionally named "FillZilla" by Kutol. The simple-to-operate machine features a clean hygienic design and a sanitary product path. An on-board pressure supply tank is equipped with dual-spray ball cleaning. Other design features include top-fill anti-foam nozzles or bottom-up fill capability for filling foamy or high-viscosity products and quick changeover for a range of products and container sizes. Kutol runs PET, HDPE, PVC, or PETG containers in sizes from as small as 1 oz to as large as a half gallon on the new line. The filler can be used as a standalone machine or as part of a complete bottling line as was supplied to Kutol.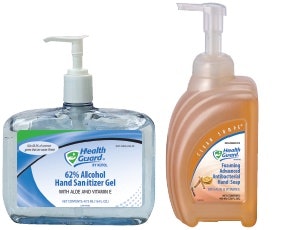 Another significant design feature is that the filler is explosion proof, making it ideal for handling the alcohol present in hand sanitizer. According to Rhodenbaugh, if product were to spill on the line from the containers near an open spark or flame, there could be a fire. So at Kutol, the DTM filler is electrically closed, intrinsically safe, and in a classified area.
The bulk of business at Kutol is hand soap, so it's not necessary for the four other DTM lines at Kutol to be explosion proof. But Rhodenbaugh says that as the sanitizer portion of the company's business has grown, it was important to have a safe fill line for those products.
During operation, empty bottles are poured into a bottle unscrambler from Pace, a ProMach company. A photo eye detects any down bottles and kicks them out.
Next is the eight-head filler, whose walking beam format results in continuous-motion filling at speeds to 300 bottles/min. Immediately downstream is a capper, which is also supplied by DTM. A Cognex inspection system kicks off any bottle with a missing or cocked cap, and then each bottle is checked by a Wipotec checkweigher. "We purchased it through DTM, but we worked pretty closely with Wipotec to make sure the side belts, for example, would be capable of properly handling such a wide range of bottle sizes," notes Rhodenbaugh.
Pressure-sensitive film labels are applied by a Nita labeler that does front and back or full-wrap labels. Then a vision inspection system from Cognex makes sure each bottle's lot and date code—printed on each bottle by an ink-jet system from Videojet—is good before bottles proceed to a pack-off table for manual case packing. Cases are taped on a machine from Intertape Polymer Group.
While the DTM Purefil is capable of handling up to 300 bottles/min, Rhodenbaugh says Kutol will likely average about 80 to 120 bottles/min based on the bottle sizes and configurations. "There is definitely room for expansion on the line in the future," he says. "But already we see an increase in capacity somewhere in the range of 200 to 400 percent compared to where we were. This boost in capacity will allow us to meet our growing needs, while keeping Kutol's TeamMate headcount the same."
In addition to increased productivity, Rhodenbaugh says Kutol will benefit from using all DTM filling lines because the software and hardware is the same, making it easier to train operators across all the lines. "All of the equipment behaves the same way," notes Rhodenbaugh, "and all the buttons mean the same so the operators have a familiarity with the machinery and can easily move from one line to the other and keep product running throughout the plant."
Rhodenbaugh says Kutol also benefits from a long-term relationship with DTM. "DTM offers flexibility during the machine design-and-build process to cater to our filling needs," he explains. In fact, DTM fully integrated and tested the Purefill before shipping it to Kutol.
"They offer ongoing support after installation," adds Rhodenbaugh. "That's why we've had them build filling lines for us since 2005."
In turn, Kutol will count on the new Purefil line to offer ongoing support to its client base, which includes schools, business offices, medical facilities, and courtrooms that rely on these hand cleaning products. "We will address our customers' needs with our equipment throughout the pandemic and beyond," says Rhodenbaugh. "We have a five- to 10-year vision for this new line to support our customers well into the future."

Companies in this article