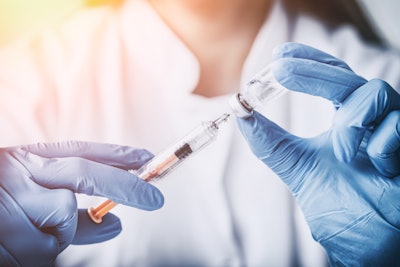 Medical devices: "The MedAccred program is a demonstration of commitment to absolute quality among elite medical device manufacturers, and provides a competitive edge for those who have worked hard to achieve accreditation."
—CONNIE CONBOY, MEDACCRED PROGRAM DIRECTOR
Sustainability: "The laboratory at the CPT Jennifer M. Moreno Primary Care Clinic began using heat sensitive labels on the urine collection cups. This initiative allowed the cups to be recycled while protecting the patient's personal information. This effort reduced the clinic's regulated medical waste costs by 30%."
—LORI NEWMAN, PUBLIC AFFAIRS SPECIALIST AT BROOKE ARMY MEDICAL CENTER
Robotics: "COVID-19 and all of the consequences of the pandemic underscored many inefficiencies in our supply chains and manufacturing systems, and we saw the public narrative moving from robots taking jobs to robots saving lives and rebooting the economy. Manufacturers, unions, and policy-makers need to all put their heads together to figure out how they can really leverage the vast amount of innovation that is happening because many of the biggest issues holding back robotics innovation are no longer technological, but related to societal, cultural, and business barriers."
—FADY SAAD, CO-FOUNDER AND VP OF STRATEGIC PARTNERSHIPS, MASSROBOTICS
By the Numbers
October 22, 2021
THE DEADLINE for entries to the 2022 Flexible Packaging Achievement Awards Competition.
$612 MILLION
THE NORTH AMERICAN PHARMA SACHET PACKAGING MARKET is expected to surpass this figure by 2027, offering pre-measured, single-dose packages designed to reduce product waste. Source: Coherent Market Insights
225,978
THE NUMBER of new COVID-19 cases in children reported from Sept. 9 to Sept. 16, 2021, per the American Academy of Pediatrics.
50%
THE PROJECTED GROWTH in global biopharma sales for cold chain products, growing at approximately twice the rate of non-cold chain products (see Cold Chain Logistics: Poised for Growth with Lessons Learned from the Pandemic).
$470 MILLION
THE NATIONAL INSTITUTES OF HEALTH (NIH) has created a research initiative awarding grants totaling roughly $470 million to study long COVID-19. The research will include children, adults, and pregnant people.