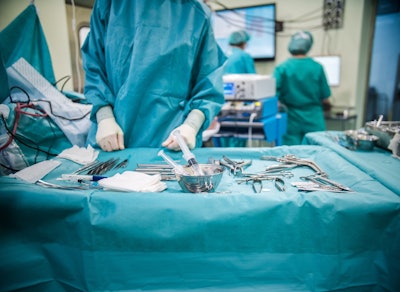 This content was written and submitted by the supplier. It has only been modified to comply with this publication's space and style.
A growing number of medical device manufacturers – accredited by MedAccred – are attending MD&M West, in Anaheim, CA, on 10–12 August, 2021.
Suppliers accredited by MedAccred will be highlighting their accreditation status, showing how the industry-managed program has benefitted their companies. This follows a recent global survey in which 89% of Accredited suppliers reported that accreditation added value to their business.
Aaron DeMent, VP sterilization technologies at Sterigenics, a leading global contract sterilization company, said: "MedAccred gives you one agency that can come in and audit to a consistently high level of quality to ensure that from a technical standpoint we are benchmarking well against the rest of the industry."
JD Williams, VP quality, at SMC Ltd, a worldwide contract manufacturer of single use and disposable medical devices, added: "SMC's commitment to quality excellence has and will always be a top priority to our organization. The MedAccred accreditation helps illustrate and fortify our commitment to process excellence as well as demonstrates to our customers the ability to achieve and maintain the standards required for this recognition. We look forward to meeting with customers during the MD&M West show and highlighting this commitment to Quality and Process Excellence."
Connie Conboy, MedAccred Program Director, said, "It's great to see so many of the MedAccred accredited suppliers attending MD&M West 2021. The MedAccred program is a demonstration of commitment to absolute quality among elite medical device manufacturers, and provides a competitive edge for those who have worked hard to achieve accreditation. In the current global climate, there has never been a better time for manufacturers to strengthen their position in this vital industry."
Accredited manufacturers also report the following benefits:
· improved product quality
· reduced scrap and rework
· new business, revenue growth, cost savings
· improved customer satisfaction
· competitive edge
· fewer redundant audits, from multiple OEMs and divisions
The full list of MedAccred Accredited companies attending the show, and their booth numbers, are listed below.
Printed Circuit Board Assembly (PCBA)
· Benchmark Electronics (Booth 2905)
· Elytone Electronic Co. (Booth 1586)
· Flex (Booth 2945)
· TG3 Electronics (Booth 1562)
Plastics Injection Molding / Plastics Mechanical Assembly
· PTA Plastics (Booth 2372)
· Scientific Molding Corporation (SMC) (Booth 2115)
·Plastics Injection Molding
· Technimark (Booth 1901)
· Trademark Plastics (Booth 2815)
Heat Treating
· Solar Atmospheres (Booth 2346)
Sterile Device Packaging
· Quality Tech Services (QTS) (Booth 2077)
Sterilization
· Sterigenics (Booth 3135)
· Steri-Tek (Booth 2570)