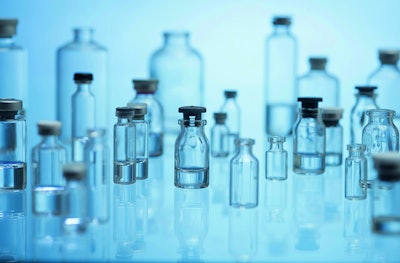 When Taiwanese pharmaceutical company Orient EuroPharma (OEP) decided to open up a new division (OP Nano) and plant for the aseptic filling of liquid products such as chemotherapy drugs, it sought a supplier that could provide a turnkey solution.
A producer of cancer therapies, cosmeceuticals, infant and adult nutrition and healthcare products, OEP found a partner in Bosch Packaging Technology, that provided a complete filling line with isolator technology, as well as a service network in the Asian region.
In 2014, OEP invested in a new injection plant and founded OP Nano in an effort to enlarge its business focus from solid drugs for oral dosage to high-potent liquid products. These drugs needed to meet high standards in aseptic filling to protect both operators and products from contamination.
That required a sophisticated production solution at its site in Yunlin County, a two hours' drive from Taipei, Taiwan. Flexibility, safety and product quality were key requirements for OP Nano, which intended to produce many different products on the line.
"We were looking for a vendor with profound know-how and a lot of resources, as well as a reliable service in the Asian region to react quickly to our inquiries," recalls Calvin Tsai, OEP's Chief Executive. "We had never worked with Bosch before, not even when we started our solid dosage form operation. But we had heard of their good reputation regarding filling and isolator technology and wanted to work with them."
Vial filling line
In joint planning sessions, Bosch Packaging Technology suggested a full liquid filling line for vials with isolator technology. "This was an ideal solution for us," says Tsai. "What's more, it was possible to receive all line parts from a single source. We didn't have to worry about organizing deliveries and the implementation of equipment from different providers; Bosch was on top of things at all times."
The new line for OP Nano covers all the required process steps. The preparation of the empty vials starts with cleaning in a Bosch RRN washing machine. Containers then proceed to a HQL tunnel for sterilization and depyrogenization.
After those steps, the vials enter the isolator area, where an ARF filling and closing machine fills the liquid products into the sterile vials with a peristaltic pump and then closes the containers with a stopper. It was the first time that Bosch designed the ARF with isolator technology. Since the machine is rotary and not linear motion, the glove inserts and individual workstations, as well as their handling within the closed isolator, had to be carefully planned to make the isolator area accessible for the operators from all sides.
Bosch also equipped the line with a third-party freeze dryer, where OP Nano can lyophilize the liquids in the vials. They implemented all required connections to achieve a smooth production process.
The VRT capping machine seals vials, and a RAN washing machine cleans the filled vials to make sure no high-potent substances remain on the outside of the glass. This ensures additional safety for doctors or pharmacists when administering the drugs.
"We saw the new RAN machine during a visit to the Bosch site in Crailsheim, Germany. It immediately caught our interest, and so we decided to upgrade the line with this additional washing machine to have a truly complete line solution," says Tsai.
To add convenience and process efficiency, Bosch equipped the line with the disposable filling system PreVAS, in which the components are pre-validated, pre-assembled and pre-sterilized. It consists of filling needles, tubing and the product bag with all connection pieces.
Says Tsai, "Cleaning can be a challenge when filling several high-potent products on the same line. The new system helps to reduce the cleaning and validation efforts. The whole system is completely disposed of after each batch, which eliminates the contamination risk by replacing all components that have been in contact with the high-potent substances."
Tablet press added
He notes, "To achieve a turnkey solution of this kind, excellent project management and timing, profound technical coordination, harmonized interfaces and a solid documentation are among the key requirements. Bosch took care of all logistics and put all the puzzle pieces together. In fact, our company is so satisfied with the quality and the result that we decided to buy another machine from Bosch."
OEP acquired a TPR 200 tablet press for its existing solid oral dosage subsidiary, Orient Pharma. Designed for small-to-medium batches, the machine is well suited for Orient Pharma's research activities.
The company also works with Bosch's service network in Asia with a main hub in Bangkok, Thailand. "Having the experts close to our time zone means we can contact them whenever we need any support in the future," Tsai explains.
With the supplier's machinery and service, OP Nano is now equipped to build its new aseptic filling business. Tsai notes, "The former challenge of building up a new business has turned into a great opportunity."
Companies in this article