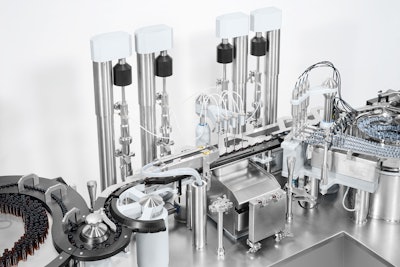 Based in Granollers, Spain, Dara Pharmaceutical Packaging specializes in the manufacturing of washing, sterilization, filling and capping machines for bottles, vials, cartridges, syringes and bags to process liquid, semi-solid, and powder products in sterile conditions. The machines can work either individually or as a complete production line.
The company takes a modular approach to its machines and an international focus—it exports 90% of its output and has a presence in more than 80 countries. According to Joan Melé, Sales Manager at Dara Pharmaceutical Packaging, "Our modular approach means that no two machines are identical. Each module is independent from the others, due primarily to the built-in servo technology, so our customers are able to combine the modules as desired in order to achieve the final unique configuration to suit their needs." Equipment modules include weight dosing control, indexing, filling and capping.
The company's HSL-PP/8 machine is designed for aseptic filling and capping of pharmaceutical drugs or vaccines, with dosing values between 0.1 up to 1,050 mL, and a throughput of up to 24,000 units/hr. "It's a high-performance machine capable of reaching 400 units per minute. In fact, only 20% of our customers handle these speeds," states Melé. He adds, "These performance parameters are made possible by the integrated electronics and servo technology."
To achieve these speeds, the company relies on products from Rockwell Automation:
The HSL-PP/8 machine features Allen-Bradley® Kinetix® 350 servo drives for one axis and Kinetix 5500 for up to 40 other axes. In both cases, their compact design helps to minimize the module size and simplify the system cabling.

For small- and medium-size control applications that do not require motion and

Allen-Bradley ControlLogix® L72 PACs are used for applications that require high-performance communications, I/O and motion control.

The HSL-PP/8 employs Allen-Bradley POINTTM I/O modules and Allen-Bradley PowerFlex® 4M AC drives, which feature high flexibility in a wide range of applications.
The system offers EtherNet/IPTM connectivity, which allows for integration of all electronic components and the connection to Dara Pharmaceutical Packaging facilities when remote diagnostics are necessary.
Melé notes that these features provide the HSL-PP/8 "with accuracy, a compact size, high performance and a high data transfer rate."
Customer service and a global footprint also are key for Dara Pharmaceutical Packaging. "Rockwell Automation has become our standard because the products provide us with all the technical features we need. In addition, the compact size increases the flexibility of assemblies and handling inside the equipment," he adds.
"This also has an impact on the benefits for our customers when installing these machines," Melé explains. "First it provides reduced energy consumption, low maintenance and high flexibility, since formats are easily changed, and as many modules as necessary can be integrated, all within this reduced floor space. Second, operation is easy, as is cleaning. Finally, customers can create full reports from the data generated by the machine, as well as performing data analysis for troubleshooting and operational appraisals of the equipment."