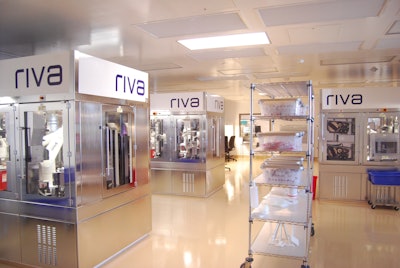 By 2020, the global pharmacy automation devices industry is projected to rise at a Compound Annual Growth Rate of 7.3% through 2020, topping US$8.99 billion, according to a Grand View Research press release.
GVR says, "Automation systems such as packaging and labeling systems, medication dispensing systems, storage and retrieval systems, tabletop counters and compounding systems are employed in order to improve the efficacy of regular jobs within pharmacies. The market is expected to grow owing to features including system integration that increases productivity and time to clinicians for patient care, thereby lowering medication errors."
A pharmacy automation system is "a mechanical system that performs tasks in pharmacy and other healthcare industrial organizations," says a new Future Market Insights report. FMI says, "Pharmacy automation systems are already being used across the globe in the pharmaceutical sector. They can be segmented on the basis of technology into automated medication dispensing systems, automated packaging and labeling systems, automated medication compounding systems, storage and retrieval systems, and table top counters."
A recent Transparency Market Research report says, "Increasing incidence of deaths and injuries due to medication prescription error is consistently putting pressure on healthcare providers and pharmacists to deploy more effective technologies.
"The medication distribution system is becoming more and more complex with the rising number of patient visits along with the pressure of ensuring their safety needs. Advanced automated technologies and solutions are emerging as the most effective tools to reduce medication errors and improve patient safety. Installing automated systems also helps pharmacists and healthcare providers to lower pharmacy costs."
Pharmacy applications
Rob Muelleck, RPh, MBA, Operations Director at Intermountain Healthcare in Salt Lake City, Utah, describes a pharmacy automation system used by the not-for-profit health organization that includes 22 hospitals with some 1,400 primary care and secondary care at more than 185 clinics.
"We have three RIVA I.V. robots at our central distribution pharmacy and have been utilizing them in sterile product preparation since September 2012. [The] benefits that our facility and healthcare system have received from this I.V. automation include safety of product preparation, efficient preparation of sterile products, and consistency of sterile compounding practices. Through the use of barcode scanning, weight verification, and photo images, RIVA I.V. robotics have contributed to product safety. Efficiency in product preparation is enhanced by allowing I.V. room staff to multitask as they are able to attend to I.V. robotic and manual processes. Finally, I.V. automation utilizes consistent sterile compounding processes that minimize variation as can be the case with manual product preparation."
Developed by ARxIUM, the RIVA fully automated compounding system has earned several awards and recognition by independent healthcare research firm KLAS.
Robotic unit-pick workcell
In June, Yaskawa introduced the RX Unit Pick Workcell, an automated robotic pharmacy order fulfillment system capable of handling thousands of different kinds of pre-packaged medicine with 100% verification for mail-order delivery direct to customers or to central fill locations.
Developed jointly by the Motoman Robotics Division of Yaskawa America, Inc. (Yaskawa Motoman), R/X Automation Solutions (RXAS) and Universal Robotics, the RX Unit Pick Workcell recognizes each item, verifies the unique National Drug Code (NDC) and prepares it for automatic patient labeling. Its compact design enables it to be integrated into existing order fulfillment processes either as a standalone solution or added to other RXAS automation equipment.
Key design criteria included 100% verification of all drugs and the flexibility to recognize thousands of items at high throughput rates. The final result blended RXAS's decade of expertise in pharmaceuticals with a high-speed Motoman® MH12 robot and Universal's Neocortex® artificial intelligence with 3D vision, resulting in flexible, automated drug handling.
The pharmaceutical industry is faced with reducing both delivery costs and response time, often while facing a shortage of skilled laborers, while prescription drug fulfillment volume continues to increase. The RX Unit Workcell addresses these needs, providing a compact footprint for small pharmaceutical RX fulfillment operations and a modular design for large facilities.
The RX Unit Pick Workcell utilizes Neocortex, Universal's machine learning-based 3D vision, to recognize and identify thousands of different kinds of medicine packaged in bottles, tubes of ointment, small cartons or odd-shaped plastic containers. The workcell reads each unique NDC, orients the item and identifies a safe labeling zone for adhering a patient label.
Watch the RX Unit Pick Workcell handle 850 prescriptions/hr with 100% verification.
Companies in this article